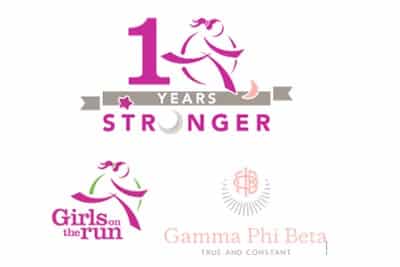 The Gamma Phi Beta Sorority and Girls on the Run International are celebrating a decade of impact through an ongoing partnership.
The two organizations share the mission to empower and support confident girls and women.
Since 2012, Gamma Phi Beta has raised more than $4 million for Girls on the Run which has served 1.6 million girls during those 10 years.
The two nonprofits have successfully shared the philanthropic focus, Building Strong Girls, with more than 75,000 Gamma Phi Beta collegiate members since 2012.
"Everything we do connects directly back to our mission to inspire all girls to be joyful, healthy and confident," said Catherine Estevez, executive director of Girls on the Run Greater Richmond. "At the local level, Eta Phi Chapter of Gamma Phi Beta at Virginia Commonwealth University makes such an impact through their fundraising efforts and support at GOTR Richmond events. We look forward to working together and continuing to inspire the next generation of confident women of character."
The empowerment and inspiration extends into Gamma Phi Beta's collegiate members and alumnae.
"Gamma Phi Beta's philanthropic mission is to provide experiences and resources that build spiritual, mental and social resiliency in girls," said Megan Smiley Wick, chief executive officer of Gamma Phi Beta. "Beyond the money raised through events, our members have spent countless hours volunteering at 5Ks, serving as coaches and empowering girls across North America to be their most confident selves. The empowerment and inspiration that comes from Building Strong Girls is immeasurable. We are thrilled with the success we've had together since 2012, and we look forward to the future of this unstoppable movement."
Together, they have had an incredible impact on the lives of young girls throughout North America.
"From cheering at 5K events, to coaching teams, to hosting events, Gamma Phi Beta is so woven into the fabric that is Girls on the Run that I often have to remember where one begins and the other ends," said Liz Wian, vice president of partnerships and development at Girls on the Run International. "As we say at Girls on the Run, the finish line is just the beginning. While it's important to reflect on where we've been, it's exciting to imagine where we are going. Together, let's continue to show the world what building strong girls looks like."
To learn more about Girls on the Run International, visit www.girlsontherun.org