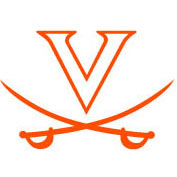 Derek Fisher (Fr., Rexmont, Pa.) went 4-for-6 with a grand slam and seven RBI as the Virginia baseball team won its sixth-consecutive game with a 19-5 triumph over Towson Wednesday evening at Davenport Field. Virginia (17-8-1) posted season highs in runs and hits (19) and scored in seven of its eight trips to the plate.
The teams battled the weather and two delays which totaled two hours, 22 minutes.
Fisher recorded a pair of doubles, a triple and a grand slam and also scored four times. He had a chance at hitting for the cycle with a single in the eighth inning, but instead cranked a double down the right-field line. With his seven-RBI day, Fisher posted the most RBI by a Virginia player since Brandon Guyer racked up nine against Niagara on March 13, 2007.
Mitchell Shifflett (So., Poquoson, Va.) and Chris Taylor (Jr., Virginia Beach, Va.) each had three hits for Virginia, while Jared King (Sr., Radford, Va.) scored four times. Keith Werman (Sr., Vienna, Va.) recorded a single to push his hitting streak to 10 games.
Nick Howard (Fr., Olney, Md.) earned his first career win and improved to 1-0 with the win out of the bullpen. He worked a career-high 4.1 innings, allowing two earned runs, five hits and no walks while striking out four. Howard also had a double at the plate and scored three runs. UVa starting pitcher Barrett O'Neill (Fr., Ashland, Mass.) pitched 1.2 innings but did not return after the second rain delay.
Towson starter Mike Ryan (1-1) pitched to just five batters before getting pulled. He allowed four earned runs, two hits and two walks while retiring one batter. Brendan Butler recorded two hits and two RBI for the Tigers (12-12).
After going scoreless over its last 29 innings against Virginia, Towson scored a run in the first inning. Pat Fitzgerald hit a leadoff single, stole second and scored on a Butler single. The first inning started after a 43-minute weather delay.
Virginia sent a dozen batters to the plate in an eight-run first inning. UVa scored quickly as Taylor singled, moved up on a sacrifice and came home on a single by Stephen Bruno (Jr., Audubon, N.J.). A pair of walks loaded the bases and Fisher followed with a towering grand slam over the bleachers in right-center. It marked Fisher's fourth homer of the year and first career grand slam.
With two outs in the first, UVa added three more runs on an RBI double from Taylor and a two-run single from Colin Harrington (Jr., Johnstown, Pa.).
The Tigers got a pair of runs back in the second on a Zach Fisher RBI groundout and a Hunter Bennett run-scoring double, which came right before the rain arrived, resulting in a one-hour, 39-minute delay.
Following the delay the Cavaliers posted a run in the second on a Nate Irving (Fr., Yonkers, N.Y.) single. Towson matched it in the fourth on a Fisher RBI groundout, but UVa again countered in its half of the fourth with a Shifflett RBI single.
The Tigers closed to within 10-5 in their half of the fifth when Butler singled in Brandon Gonnella, but Virginia responded with a five-run fifth inning to blow the game open. Fisher hit a two-out, two-run double to push the lead to 12-5. With the bases loaded, Towson reliever Mike Bronakoski uncorked a wild pitch to score a run and promptly fired another to bring home Fisher; Bronakoski tried to retrieve the second wild pitch and throw to the plate to catch Fisher but the ball sailed past the catcher to allow Irving to score as well.
UVa upped its lead to 16-5 in the sixth when Howard was hit by a pitch with the bases loaded and added a seventh-inning run on a Shifflett single to plate Fisher, who had tripled to lead off the inning.
UVa tacked on a pair of runs in the eighth on Fisher's second double of the night and an infield single by Chace Mitchell (Jr., Auburn, Ala.).
Virginia heads to No. 9 NC State this weekend for a three-game ACC series.