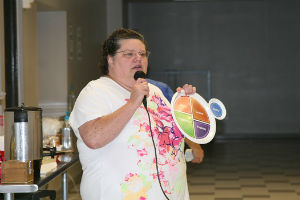 Kim Joralemon, SNAP Educator with the Virginia Cooperative Extension Office, met with 19 East Rockingham Senior Center members and two volunteers on June 17, to discuss "Ways to Sneak More Fruits and Vegetables into Your Diet." Today's visit wrapped up a series of nutritional programs that Mrs. Joralemon has offered over the past several months at ERSC.
Today, she provided members with several colorful and very descriptive brochures, including: "Vegetables: How Much Do I Need?" that vividly explained what a fruit serving looks like. Some of the examples included showing an apple should be about the same size as a tennis ball; a bunch of grapes should be about the same size as a light bulb; and a serving of raisins would be about the same size as a golf ball. She also showed attendees how our plates should be divided to include proteins, vegetables, fruits, grains and dairy.
Mrs. Joralemon reminded attendees that we should strive to eat two cups of fruit each day and two and a half cups of vegetables. She cautioned that most canned vegetables are very high in sodium and that fresh vegetables are a better alternative.
More information at www.EastRockinghamSeniorCenter.org.