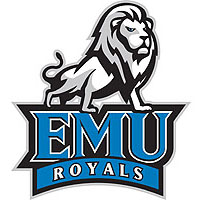 The EMU women's basketball team released their 2014-15 schedule today, and it shows a tall order for the women to secure another trip to the NCAA National Tournament.  The Royals, who have earned at-large bids to the dance the past two seasons, will face four teams who went to the National Tournament last year, with a chance at five.
Eastern Mennonite opens their 25-game slate with a road trip to Wilmington, Ohio, on Nov. 15 and 16.  The women take on the host Fightin' Quakers in the first round of that weekend tourney.  The other two teams at the tournament are national runner-up Whitman and SUNY-Geneseo.
The Royals come home for just as tough of a task, hosting national qualifier York (Pa.) on Nov. 19.  In fact, the nine games slated for the 2014 calendar year figure to be some of the toughest for an EMU team which has to replace three key seniors.
All four of the contests against NCAA Tournament teams are in November and December, including at Randolph-Macon onDec. 2, hosting Ferrum on Dec. 6 and at Christopher Newport on Dec. 30.  The Captains knocked Eastern Mennonite out of the tourney last spring before losing to Whitman in the Sweet 16.
The Royals host rival Bridgewater College on Jan. 27 and play their final road game at the Eagles on Feb. 17.  EMU ends a busy season-ending week at home, taking on non-conference Dickinson on Feb. 19 and Roanoke on Feb. 21.  In all, they play 13 games in Yoder Arena.
The women, who won the ODAC regular season title for the third straight time last year, got a slight break in the unbalanced conference schedule as they only play five total games against the other top five teams in the league.  EMU plays home-and-away with Lynchburg and hosts Virginia Wesleyan (Jan. 31), but plays at tourney champ Randolph-Macon and Guilford (Jan. 7).
Along with LC and Bridgewater, the Royals play two ODAC contests against Washington and Lee, Shenandoah and Roanoke.
Other home games this year include: Mary Baldwin, Emory & Henry, Washington College (Md.) and Randolph.
The ODAC Tournament is the final week of February with a slight change this year.  The women will have their first round games on Tuesday, Feb. 24, and their quarterfinals on Friday, Feb. 27, in Salem, Va.  In previous years the women played on Monday/Thursday, while the ODAC's men were on Tuesday/Friday.  The semifinals are Feb. 28 with both championship games on Mar. 1.
Eastern Mennonite finished 22-6 last year, including 15-1 in the ODAC.  It was their third straight 20-win season.  They also carry over an 18-game home winning streak into this fall, but are replacing All-ODAC seniors Bianca Ygarza, Keyla Baltimore and Steph Rheinheimer.