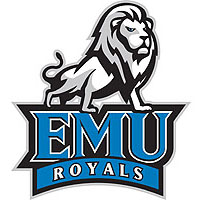 From Dave King, EMU Director of Athletics
One of the unique features of an academic calendar is the opportunity for new beginnings and fresh starts.  While second semester provides one of those opportunities, the focus is normally on the start of the first semester, a new school year.  Since athletic programs have grown into year-round activities, the start of the school year signals the start of a new sports season.
We are very excited about the 2014-2015 school year.  With all but one staff person returning, we have benefitted from stability and familiarity.  Last spring we welcomed Ted Erickson as our head women's soccer coach.  He is very familiar with EMU athletics having been a soccer athlete and assistant coach for both the men's and women's soccer programs over the past five years.
This year we welcomed approximately 257 student athletes to campus.  One of our growth areas is the number who play two sports with about 50 of that 257 anticipating participation in a second sport.  While most of these are cross country and track & field, there is an increasing number who play a fall sport then participate in the track & field program.
Cross country and track & field are our fastest growing programs, increasing from approximately 15 athletes three years ago when Jason Lewkowicz was hired to perhaps 6o expected to participate this winter/spring.  Besides the number of athletes, the competitiveness of the teams is evident with the regional rankings for both men and women.  The other program demonstrating growth is baseball which had 42 student athletes attend the first meeting this fall.  Coach Ben Spotts has been effective with his recruiting strategies.  Men's soccer is carrying a roster of 26 and both basketball teams will be close to 20 on their rosters.
Once again, we kicked off this year with Royals Night at which coaches and teams were introduced, expectations shared, welcome comments from various staff persons and the annual group photo with President Loren Swartzendruber in our new black Royals T-shirts.
We are in the second year of the graduate assistant program and anticipate the good work of our grad assistants.  Since it was approved as a pilot program, we will be evaluating it this fall in anticipation of at least maintaining it or perhaps increasing the number graduate assistants.  We will also be continuing our work on addressing the facility needs for the baseball and track & field programs.
And there are several new initiatives that we are undertaking this year.  One is exploring the possibility of developing a leadership program for selected athletes with a goal of instituting it in the fall of 2015.  Another is to re-shape Loyal Royals by organizing a group of volunteers who will make the Loyal Royal presence felt with athletes during the school year.  Our goal is to increase the visibility of the Loyal Royals so that it is the identifiable brand and the way in which alumni athletes connect to EMU after graduation.  And finally we hope to make connections with alumni on campus and in local communities where the Royals play.  We are scheduling more alumni events on campus for each sport and inviting alumni within a 50-mile radius of schools where we compete to see the Royals in action.
We are excited about the year and the number of opportunities we will have to speak into the lives of young people through their athletic endeavors.  We invite you to join us by attending a game in Harrisonburg or wherever we play that is closest to you.  Or follow us on the web or any of the social media outlets.