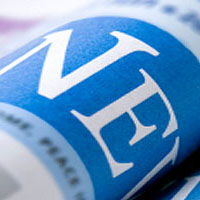 Youth join Young Adult Writers to discuss genre boundaries: Are there any topics in Young Adult (YA) books that are taboo? Any lines in the sand that a YA author shouldn't cross? If YA can tackle all manner of adult themes, then what differentiates it as young adult? A panel of YA authors and members of JRW's Youth Advisory Board will explore these topics and more in a lively event that encourages audience participation.
The latest in James River Writers' monthly Writing Show series, "Stretching the Limits of Young Adult Literature," to be held July 31 at the Broadberry, will feature YA authors Kristen-Paige Madonia (Fingerprints of You), Kat Spears (Sway), and Kristi Tuck Austin.
Joining these authors will be Young Adult authors from the James River Writers Youth Advisory Board.  Maeve Oliver (St Gertrude's HS) and Madison Hoffman (Appomattox Regional Governor's School) will be participating in the panel discussion while Read Brown (St Christopher's HS) and Regan Blume (Monacan HS) will read from their own work.
According to a July 4th Publisher's Weekly article, "Young adult novels reigned over the top halves of the print and Kindle bestseller lists for the first six months of the year."
"I think it is clear that YA lit is a top genre and not the kid books that some think," said James River Writers Executive Director Katharine Herndon.  "The topics are contemporary and challenging.  What we want to do is involve our young readers and writers in discussing the limits, if any, of the genre."
The Writing Show, described as Inside the Actor's Studio meets the New York Times bestseller list, happens live in Richmond the last Thursday of the month. The host is James River Writers, a nonprofit whose mission is to build community by connecting and inspiring writers and readers in central Virginia.
Event Info:

Thursday,  July 31, 2014, 6:30-8:30 p.m.
The Broadberry, 2729 W. Broad St., Richmond
Ample parking available on street, across the street, and adjacent to the building
$10 in advance at jamesriverwriters.org, $12 at the door, $5 students
Local artist debuts at WriterHouse: WriterHouse is proud to present the work of local artist Scott Supraner for the month of August.
These ceramic wall reliefs expand upon traditional ideas of tilework and mosaic to create a new form that is both painterly and sculptural. In these pieces, rhythmic bas-relief patterns are interwoven with planes of color to produce a complex visual field. Lively abstract images evoke the natural world, both earthly and celestial.
The Friday, Aug. 1, opening reception is FREE and open to the public. Refreshments courtesy of DuCard Vineyards. The exhibit will remain on display through August 31st.
Free and open to the public. WriterHouse, 508 Dale Avenue, Charlottesville, VA (behind the Preston Avenue Bodo's), www.writerhouse.org, 434-296-1922, [email protected].
Refraction of Wounds – an art and poetry exhibit: On Friday, Aug. 1, from 5-8pm, the Arts Council of the Valley will host Refraction of Wounds, an art and poetry exhibit featuring the work of Angela M. Carter and Dave Buracker at the Darrin-McHone Art Gallery, 311 South Main Street (The Smith House), Harrisonburg.
Refraction of Wounds is a collection of abstract paintings by each artist/poet with corresponding reactions in poetry to the other. Angela M. Carter is a local author, poet and artist who recently released a poetic memoir titled "Memory Chose a Woman's Body". Angela's work has also appeared in numerous publications nationally, and most of her work revolves around sensitive topics.
Dave Buracker is a poet and author of "Dust: Selected Poems", and an abstract artist who has released more than 25 electronic music albums worldwide under various names. Both artists are no strangers to dark and heavy content in their work.
With Refraction of Wounds they have teamed up to cultivate abstract snapshots as a conversation on sadness and heartache.