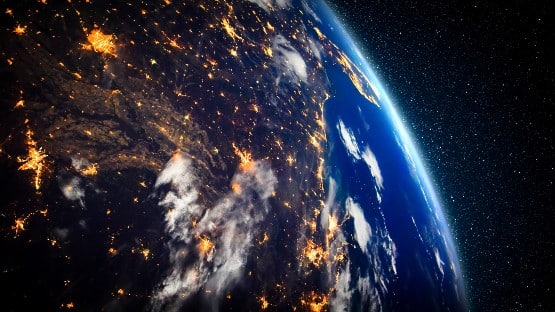 Despair is just deadly. We know how challenging all the climatic problems are that are now unfortunately baked into the environment. But we need to start every conversation with saying, "We can do this." – Washington Governor Jay Inslee
Our Climate Crisis
The World Meteorological Organization warns that record-hot global temperatures in recent years are just the start of the kind of heat we're headed toward. That's because human-caused global warming will be combined with an emerging "El Niño" weather pattern that also warms the globe. There's a two-thirds chance that at least one of the next five years will breach the 1.5 C threshold of increased global warming set by the Paris Climate Agreement in 2015.
The property insurance market is collapsing along the Gulf Coast following a series of destructive climate related storms. The insurance crisis has been created by insurance associations in Florida and Louisiana being forced to borrow hundreds of millions of dollars to pay the hurricane claims of now insolvent insurers. Borrowing could reach a combined $1.35 billion, leading to soaring premiums and the cancellation of hundreds of thousands of homeowners' policies.
This spring a heat wave in Southeast Asia has broken all-time heat records. In April temperatures broke former records in both Vietnam and Thailand. This came on the heels of a record-breaking heat wave in Southern Europe and North Africa, which scientists say was "almost impossible" without climate change.
The number of internally displaced people reached a record 71.1 million worldwide last year due to various climate calamities and conflicts such as the war in Ukraine. That number is a 20% increase since 2021, with an unprecedented number of people fleeing in search of safety and shelter.
Politics and Policy
The Environmental Protection Agency recently announced a proposal for the tightest limits ever on power plants' planet-warming pollution. This is a giant step toward meeting President Biden's pledge to halve U.S. emissions by 2030 compared with 2005 levels. In response, Senator Joe Manchin of West Virginia said he'll oppose every EPA nominee put forward until the administration backs off.
The Department of Energy's Loan Programs Office has become an engine of the Biden administration's efforts to aggressively advance clean energy. As part of last year's Inflation Reduction Act, Congress supersized the office's authority to arrange loans to companies trying to bring emerging energy technologies to market. Its loan capacity increased tenfold from $40 billion to more than $400 billion, making it potentially one of the biggest economic development loan programs in U.S. history.
Skyler Zunk, a young conservative activist, co-founded Energy Right last year to promote solar energy in rural Virginia. Today roughly 6% of Virginia's electricity comes from the sun. To Zunk, that number falls woefully short. "Virginia has to be producing more energy. We're a net importer and we need to be an exporter," he argues. "It's an enormous opportunity to seize." His goal is that rural counties will see Energy Right as the nonprofit to seek out when they're considering solar projects.
Weatherization providers for low-income households, such as Community Housing Partners,  are concerned about losing vital funding as Governor Youngkin continues to push for Virginia to leave the Regional Greenhouse Gas Initiative (RGGI). Funds provided by RGGI finance outstanding repairs on houses before they can qualify for federal or state or utility sponsored weatherization programs.
Texas rolled out the welcome mat for renewables in 1999 by deregulating the electricity market. With ample wind and sunshine, a business-friendly regulatory regime, and state-backed construction of new high-voltage transmission wires, the state quickly became the nation's renewable energy leader. This makes it hard to understand why Governor Greg Abbott and Republicans in the state legislature are now tripping over themselves to introduce bills designed to kill the Texas clean energy boom.
In a political climate trade-off the White House endorsed a plan by Sen. Joe Manchin to speed the approval of some fossil fuel projects in order to also hasten the construction of new transmission lines critical for meeting President Biden's climate goals. The announcement of the deal drew swift opposition from many environmental groups, which are still seething over the administration's support of the Willow oil project in Alaska and the Mountain Valley Pipeline in Virginia and West Virginia.
The U.S. has more than enough proposed clean energy and storage projects needed to clean up the electricity sector. They're, unfortunately, stuck in the queue and can't get connected to the grid. Only about 21% of proposed projects get built because of the high costs of connecting to the grid and it takes about 5 years for a project to become operational once it enters the queue. Legislation is needed to help speed up the development of energy projects but Congress is haggling over permitting reforms for clean energy versus fossil fuel projects.
Energy
Dominion Energy says it expects the number of electric vehicles in its territory to roughly double by the end of next year. It forecasts another doubling by 2026. After five years, in 2027, it expects there will be 220,000 electric vehicles in its territory. That will mean a substantial increase in electricity usage. In related news, Dominion has created an energy plan document that completely ignores the legal requirements of the Virginia Clean Economy Act.
The global shift to electric vehicles is unfolding much faster than was expected even one year ago. The International Energy Agency says that by 2030, electric vehicles — including both fully electric and plug-in hybrid models — could make up 35% of new vehicle sales globally.
The investment boom in 'renewable natural gas' (RNG), derived from trash, food, and manure, is sparking debate about its pros and cons. These investments, which are partially driven by federal tax credits, are soaring as energy companies seek what they claim are cleaner ways of powering the economy. The jury is still out on how clean RNG will prove to be. In any respect, it will hardly be a big player in providing clean energy.
The holy grail of fusion nuclear power has always been just beyond our grasp. Now Microsoft has inked a power purchasing deal for electricity with fusion start-up Helion Energy on a timeline beginning in 2028. If real, that would be game-changing but scientists remain skeptical. Both the technology and the cost are huge hurdles that need to be overcome.
China's carbon emissions grew 4% in the first quarter of this year, reaching a record high. At the same time, renewables and nuclear, passed 50% of China's installed power capacity for the first time, overtaking coal and other fossil fuel-based capacity. The rapid expansion in low-carbon energy, if sustained, could enable their carbon emissions to peak and enter structural decline in the near future.
Climate Justice
Research by the Common Wealth thinktank shows that the US fund managers BlackRock and State Street use funds with an "environment, social and governance" (ESG) label to invest in fossil fuel firms. Despite claims that their ESG funds offer a green and socially responsible option for investors, they remain significantly exposed to fossil fuel companies.
Our fleet of roughly half a million school buses is our nation's single biggest transportation fleet. To date, 5,600 electric school buses have been funded or put in operation through government awards. The transition to electric buses will significantly reduce carbon emissions while benefiting local neighborhoods and the more than 20 million students who currently breathe in harmful diesel exhaust. Government funding through the Clean Bus Program is focused on serving lower-income, disadvantaged and rural school districts.
The U.S. Department of Agriculture is investing nearly $11 billion to bring affordable clean energy to rural communities throughout the United States. Rural electric cooperatives, renewable energy companies and electric utilities will be able to apply for funding through two programs. This is the largest single federal investment in rural electrification since President Franklin D. Roosevelt signed the Rural Electrification Act in 1936 as part of the New Deal.
Climate Action
Transportation creates 27% of greenhouse gas emissions in the United States. Switching to EVs could reduce emissions up to 48% by 2050, but that still leaves us short of our climate commitments. Furthermore, many will still be without access to reliable and affordable transportation options. To significantly reduce transportation emissions, local governments will need to expand public transit, biking, and walking options and enact land use policies that encourage dense development and affordable housing around transit.
It is estimated that by 2050 one in every seven people in Bangladesh will be displaced by climate change, and up to 18 million people may have to move because of sea level rises. One climate mitigation effort is dredging earth from rivers to create a large, oval-shaped plateau that can withstand the oncoming rush of water during monsoons.  This creates a space for safe housing as well as to accommodate displaced families and their possessions during floods.
Food accounts for 10-30% of an American household's carbon footprint and 75% of that comes from meat or dairy. You don't need to go completely vegan to make a big environmental impact. The Michael Pollan family recommends eating a "plant-based diet with a focus on vegetables, fruits, whole grains, legumes, nuts and seeds with the inclusion of meat and other animal products in moderation." An added plus is that this is a much healthier diet.
Globally, about 2% of  carbon emissions are produced from burning wood for cooking, roughly the same share as aviation. Additionally, exposure to smoke from cooking fires is linked to an estimated 3.2 million premature deaths annually around the world and remains one of the main drivers of pollution-related disease and death in Africa. Inexpensive and energy efficient insulated cook stoves make a huge difference yet making the switch has been difficult.
Climate Victory Gardens is a movement inspired by the collective action of Americans taken during the WWI and WWII victory gardening movement, when 20 million gardeners produced 40% of the fresh fruits and vegetables consumed in the U.S. at the time. They're bringing victory gardens back. This time, it's for the climate. Click onto their website to learn more and to register your own garden, no matter how small it may be.
A staggering one-third of all food in the U.S. gets thrown out and most of that ends up in landfills. Each year, the greenhouse gas emissions from all that discarded stuff represents the estimated equivalent emissions of 42 coal-fired power plants. Yet, there's a simple solution, beyond simply reducing waste. A new scientific study shows that composting food scraps results in 38 to 84% fewer greenhouse gas emissions than tossing them in landfills.
Earl Zimmerman is a member of the Climate Action Alliance of the Valley Steering Committee.