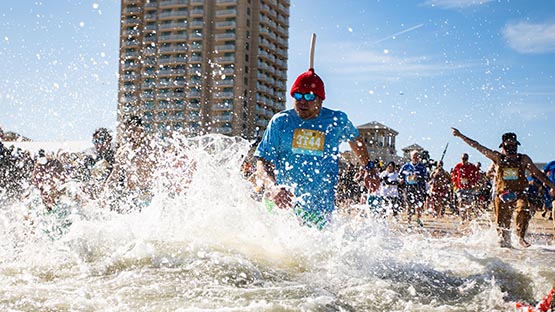 The 2023 Polar Plunge was held Feb. 3-4 in Virginia Beach and plungers and runners raised more than $1.55 million for Special Olympics Virginia.
"Following our athletes' lead, Special Olympics Virginia strives to create communities where all are welcomed, all are respected, all are included, and all are valued. Our Polar Plunge is a prime example of what we can do when we work together toward those goals," said David Thomason, Special Olympics Virginia president.  "Among those brave enough to #GoForTheCold today are people with intellectual disabilities and those without; people of all ages, genders, races, and faiths; people from all backgrounds and walks of life. Each Polar Plunge participant is contributing to Special Olympics Virginia's transformative impact toward more unified communities here in Hampton Roads and throughout Virginia."
In addition to the main event, students and teachers kicked things off Friday, Feb. 3 at the Cool School Challenge. Students raised $58,243 in support of Special Olympics Virginia's 18,000+ athletes. Students were happy to be back on the beach after two years of "lazy river penguin plunges" because of pandemic challenges.
On Friday evening, 347 runners and walkers dashed during the 5K Run/Waddle along the boardwalk. The Friday festivities continued at the pre-plunge party on the beach.
On Saturday, plungers and festivalgoers enjoyed music, vendors, sand sculptures, food and fun.
Here are a few additional highlights:
The Ice-Aholics team took home the Top Team fundraising award, with more than $76,939 raised.
Jennifer Bonds raised $25,662 and claimed the top individual fundraising prize and some cool bragging rights.
The Charlottesville Police Department and Albemarle County Police Department participated in the Plunge.
The inaugural Polar Plunge took place in 1993 at the Clarion Hotel when 108 plungers raised $11,000 for Special Olympics Virginia.
This event is one of five Polar Plunges in Virginia. In addition to the Virginia Beach event, the first Polar Plunge took place in Richmond in December and raised $72,000. It was followed by our second Plunge in Northern Virginia at the Mosaic District in January, which raised $60,000.
Still to come are a Plunge at Leesylvania State Park Saturday, Feb. 18 and one in the New River Valley, Saturday, Feb. 25.
For more information, visit www.polarplunge.com