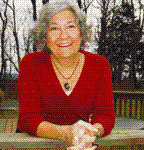 The Wayne Theatre Alliance and the Waynesboro Heritage Museum present the second "Children's Hour" on Friday, Sept. 18 at 6:30 p.m. The featured performer will be Shenandoah Storyteller Susan Clark, with "Trickster Tales." The program is ideal for school age children and adults. 
Susan Clark's "Trickster Tales" are gathered both from the southern U.S., Appalachian Mountains and from around the world. They tell of crafty tricksters, loveable country bumpkins, clever women and girls, and wily animals. The tales leave audiences smiling and laughing as the character gets his "comeuppance". Susan's style of expressive is enriched by her many years of theatrical performances. As a storyteller, she has been delighting audiences of all ages for nearly 28 years at schools, libraries, festivals and museums. Susan is a member of the Shenandoah Storytelling Guild and the VA Storytelling Alliance. She will take you on a pleasant journey into her "world of story" and you may never want to come back!
Admission to the "Children's Hour" is free, but donations are welcomed to help cover the cost.
The performance is at the Waynesboro Heritage Museum, 420 W. Main St. in Downtown Waynesboro at 6:30pm and will last approximately 45 minutes.
For more information call the Museum at 540.943.3943.