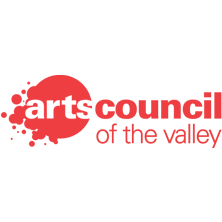 A group of Harrisonburg writers and artists are seeking fellow creative individuals to submit works for the second annual Word Show, a visual art exhibition celebrating the written word. The exhibition will be hosted at Arts Council of the Valley's Smith House Galleries during the month of October, with an opening reception on Friday, October 7th.
Seeking contributions from beginners and experienced artists alike, the show's organizers are excited to see names which have never appeared on a gallery wall, as well as seeing words from local artists which are active in our local arts community. The show's organizers represent unique backgrounds within the arts, including Angela M. Carter (writer, author, spoken word performer, visual artist), Danielle Campbell (photographer), Christopher Louderback (poet) and Christopher Weve (writer, painter).
From the show's creator, Angela M. Carter: "Even though the literary arts are just as much a part of the artistic world as visual arts, it's not often that words are showcased in the same way, or as much as visual art. This show symbolizes the fact that visual and literary art has equal importance. Word is a show that joins the two into the same world, room and piece during this show. In summary, Literature = Visual Arts."
Submissions will be accepted that follow the following guidelines: an original poem or short prose piece (any style/subject), presented with any medium to display/frame/decorate words, and/or the space around them, and have a minimum size of 8" x 10". The drop-off date for work is Tuesday, September 27th, from 10am-4pm at Arts Council of the Valley.
The opening reception for the Word Show will be held in conjunction with First Fridays Downtown on Friday, October 7th, 5-8pm at the Arts Council of the Valley's Smith House Galleries, located at 311 S. Main Street in downtown Harrisonburg.
More information can be found online at facebook.com/thewordshow.