Sports
Brennan Armstrong was solid in Virginia's season-opening win, but admits 'there's a ton of things to fix'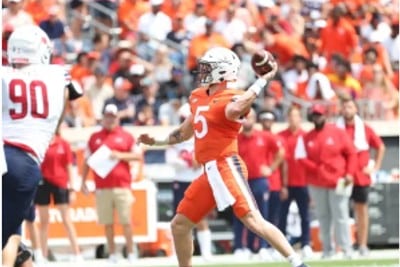 Brennan Armstrong did what you expected Brennan Armstrong to do. The fifth-year senior threw for 232 yards and two TDs, ran for 109 and a third score, and the Virginia offense scored 34 points and gained 505 yards.
But Armstrong, in his first start under new head coach Tony Elliott and new offensive coordinator Des Kitchings, had his issues in the 34-17 season-opening win over Richmond on Saturday.
"We would like more out of the passing game," Kitchings said after the game. "We had a few drops. Early on, Brennan might have missed one or two from a progression standpoint. But again, he made a good throw to Lavel, that drive, big play at the right time, which was critical."
The pass to Lavel – Davis. Jr, who missed last season with an ACL injury, after his breakout freshman All-America campaign in 2020 – went 56 yards for a score that tied the game at 7-7 in the first quarter.
A 64-yard QB keeper in the second quarter saw Armstrong, after faking a handoff to tailback Perris Jones for what looked to be a stretch run, burst off-tackle, get to the second level, then outrun the secondary down the left sideline all the way to the house.
The new-look Virginia offense under Elliott and Kitchings was supposed to generate more yards on the ground from the running backs to preserve Armstrong, and Jones did his job, running for 104 yards on 19 carries, but still, there was still a bit too much reliance on Armstrong that you have to imagine the coaches want to be able to get away from as the season goes on.
"The main topic here is, what do we need to run the ball? We need to be capable of doing that," Kitchings said. "[Richmond], they played hard, and we do have to play, too, and we've got to get better for the next week."
Armstrong said it felt good "just being out there and going live."
"Took some good licks out there, so I'll probably be sore, but I'm just glad to be playing again," said Armstrong, who was 21-of-33 through the air for 246 yards, two TDs and one INT, and a 140.2 QB rating.
Postgame, he conceded that "there's a ton of things to fix," but fixing things is easier to do when you're coming off a win.
"Coach Elliott just kind of talked about if we're a mature enough team to learn those things after a win to continue to get better. So, it was fun. Finally good to be back," Armstrong said.
Elliott learned something about his guy today.
"I had to tell him, Hey, don't take that hit. In some of those situations like buddy, it's late in the game, get down. But [he said], No coach. We weren't playing to the standard," Elliott said.
"You just love everything about what his DNA is. I'm just happy that he's here for me to come alongside, because at the end of the day, what the vision I have is only going to come to life with the belief of those guys, and he's paramount in our success going forward."