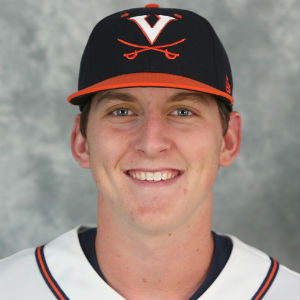 UVA junior lefty Brandon Waddell didn't have the junior season that he or many others expected him to have. But you can bet that the Florida Gators aren't looking at that 3-5 won-loss record and 4.15 ERA and licking their chops.
"Just to be able to have the experience of pitching in this ballpark, the crowds, really, the atmosphere is what consumes a lot of people. To be able to have that under my belt, it's comfortable going into it," said Waddell, who will get the ball for the Cavs when they face the Gators Monday night at the 2015 College World Series.
Waddell made two starts in Omaha in 2014, getting a no-decision in Virginia's 3-2, extra-inning win over TCU in pool play and then getting the complete-game win in Game 2 of the CWS Championship Series.
In those two starts, Waddell had a 1.13 ERA with 10 strikeouts and three walks in 16 innings and a .190 opponent batting average.
"It's harder to do here than, per se, a regional or super regional, solely because of the atmosphere," Waddell said of pitching in Omaha. "The fans here are really good baseball fans. They really get into the game, and you're not used to playing in front of 20,000, 25,000 people. But I think it makes it fun. It just shows how much momentum goes into a game. It's just a matter of keeping momentum and trying to make pitches."
Waddell is getting back to form for UVA at the right time. In the 2015 postseason, the fifth-round 2015 MLB Draft pick has a 2.93 ERA in two starts, both of them Virginia wins, with 12 striikeouts and four walks in 15.1 IP and a .286 opponent batting average.
He's going to need to be on top of his game going up against a potent Florida offense that scores 7.05 runs per game, and put up 15 in a rout of Miami on Saturday at the College World Series.
"They can swing it. You know that going in. They've been a good offense all year. It's something they really take pride in. They're good hitters. They're going to make you be in the zone, and hit good pitches. It's something you know going into it, so you just have to stay with your game and make good pitches," Waddell said.
Waddell started the second game in pool play last year in Omaha, and with the win in that game, the Cavs were left sitting pretty in terms of getting to the CWS Championship Series.
A win gives Virginia a break all the way until Friday with a chance to set up its pitching for the weekend and a possible spot in the final round.
A loss makes things hard – with an elimination game on Wednesday, then needing to win two to get to the CWS Championship Series.
"Obviously a win is huge, to be able have that long a break, and also to be 2-0 and go to what is kind of like a regional final. So it's a really big game, but the first one was just as big. Every game out here, you want to go out there and win, take care of business. It's just a matter of us playing our game, doing what we've been doing, staying loose and having a good time out there," Waddell said.
UVA coach Brian O'Connor has the guy he wants pitching Monday night.
"Brandon Waddell has been in this situation before," O'Connor said. "He's pitched in these big games in Omaha, a couple of them last year. So he knows what to expect. He's been on this big stage. I'll tell you, he's got more experience than anybody that can start for us right now. He's definitely the guy that we'd want facing them tomorrow night."
– Story by Chris Graham