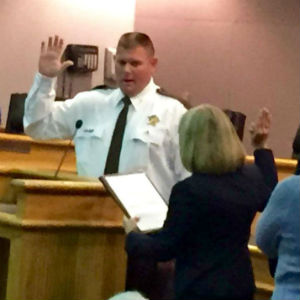 Former Orange County Sheriff William D. Spence will serve as the chief deputy under newly elected Augusta County Sheriff Donald Smith.
Smith announced the appointment along with other members of his administrative team on Tuesday.
"I feel it is important for everyone to know who my administration team will be once I take over as sheriff," said Smith, who takes office on Jan. 1.
Joining Spence on Smith's administrative team will be Gary Taylor, who will serve as patrol lieutenant, Brian Jenkins in the role of administrative lieutenant, Aaron LeVeck as investigations lieutenant, Caleb Spence as SWAT commander and Chris Kite as assistant SWAT commander.
"This administration will be fully engaged and a working component of the entire sheriff's office," Smith said.
Spence will assume the rank of captain under Smith. Spence was employed by the Virginia State Police, was Orange County's sheriff for two terms, and most recently worked for the Department of Defense.
"He has a very diverse background in law enforcement with uniform patrol, general investigations, undercover narcotics investigations, administration, background investigations, and successfully managing another sheriff's office within the Commonwealth. Captain Spence will be a great asset to our office and you will begin seeing him with me in the very near future," Smith said.