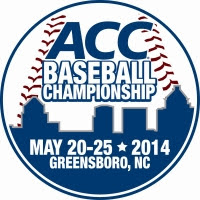 The UVA baseball team starts postseason play on Thursday (May 22) as it competes in the 2014 ACC Baseball Championship at NewBridge Bank Park in Greensboro, North Carolina.
UVa is seeded third in the tournament, which is a pool-play format with two pools of four teams. The teams will play each team in their respective pool, and the teams with the best record in each pool will advance to the championship game at 1 p.m. Sunday.
Virginia will play No. 6 seed Maryland at 11 a.m. Thursday, No. 7 seed North Carolina at 7 p.m. Friday and No. 2 seed Florida State at 7 p.m. Saturday. All three games will air on the ACC's Regional Sports Networks. The championship game will air on ESPN2.
UVa will start senior right-hander Artie Lewicki on the mound Thursday. The Cavaliers have not announced their starting pitchers for Friday and Saturday.
Broadcast Information
In addition to the television broadcasts, ESPN3 will air video broadcasts online for every game of the tournament, while a live audio broadcast will be available for all three games through a Cavaliers Live subscription on VirginiaSports.com. wina 1070-AM and WINA.com will carry the live radio broadcast of all of Virginia's games.
Every game of the tournament will air on SiriusXM Satellite Radio. The Thursday UVa game will air on Sirius 220/XM 190, while the Friday and Saturday games will air on SiriusXM 91.
A link to live statistics also will be located on VirginiaSports.com. The audio and live stats also can be accessed through the Virginia Sports app, which is available through iTunes.
Virginia in the Latest National Rankings
Perfect Game – 2
Baseball America, NCBWA, USA Today Coaches – 3
Collegiate Baseball – 4
Odds and Ends
• UVa is 14-3 in ACC Tournament since 2009.
• UVa is tied with Louisville for the third-most wins in college baseball (Louisiana-Lafayette 49, Cal Poly 44).
• Twenty-four of the Cavaliers' 43 wins have come when scoring five runs or fewer.
• Nick Howard needs two saves to tie the ACC single-season record.
• UVa did not lose back-to-back games in the regular season.
Virginia at the ACC Baseball Championship
Virginia has won three ACC tournament titles (1996, 2009, '11). UVa now has played in each of the 41 ACC tournaments.
Virginia is 53-65 all-time at the ACC Baseball Championship. Under Brian O'Connor (since 2004), Virginia is 22-11 in the tournament.
Cavaliers Against Pool Opponents
Virginia went 4-2 this season against its foes from its pool. UVa's season and tournament history against its pool opponents:
This Season – Tournament History (Last Mtg.)
• DNP Maryland — 5-4 (1998; 9-4 UVa, 10 innings)
• 2-1 vs. North Carolina (April 18-20) — 7-9 (2011; 3-2 UVa)
• 2-1 at Florida State (April 25-27) — 8-7 (2013; 7-4 UVa, 12 innings)
Playing It Close to the Vest
Virginia has played plenty of games down to the wire. UVa is 13-5 in one-run games, marking the second-most one-run victories during the O'Connor tenure (14 in 2004).
The Cavaliers are 22-6 in games decided by three runs or fewer. UVa also is 5-1 in extra-inning affairs. Half of the Cavaliers' 30 ACC games have been decided by one run, including all three of the contests at Duke; UVa is 11-4 in those games.
Cavaliers Hit 40 Wins for Ninth Time in 11 Years
Virginia recorded its 40th win of the year on May 7 against Liberty, reaching the 40-win plateau for the ninth time in the last 11 seasons. UVa joins Florida State and North Carolina as the only ACC schools to record at least nine 40-win seasons in the last 11 years.
Virginia had one season of 40 wins or more prior to 2004 (1996). UVa has recorded 39 wins or more in all 11 years under the current coaching staff (39 wins in 2008, 2012).
Eight Cavaliers Named All-ACC
A league-high eight Cavaliers were named to the 2014 All-ACC Team, while Nathan Kirby was named the ACC Co-Pitcher of the Year and Brian O'Connor was named the Coach of the Year. UVa had five players on the All-ACC First Team, most of any school: Branden Cogswell (second base), Nick Howard (utility), Kirby (starting pitcher), Joe McCarthy (outfield) and Mike Papi (first base).
UVa had three third-team honorees: Nate Irving (catcher), Daniel Pinero (shortstop) and Brandon Waddell (starting pitcher).
Up Next
Virginia will await its NCAA tournament status following the ACC tournament. The 16 regional host sites will be announced at approximately 9 p.m. Sunday. The NCAA field of 64 will be unveiled at noon Monday (May 26) on ESPNU.