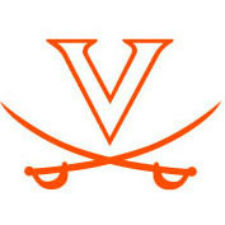 No. 11 Virginia (11-8) held off a late charge by No. 18 Princeton (12-7) to earn a 13-11 victory in the second round of the 2014 NCAA Women's Lacrosse Championship.
The sixth-seeded Cavaliers advance to face third-seeded North Carolina (15-4) in a quarterfinal game next Saturday (May 17) in Chapel Hill, N.C. with game time to be announced later.
"We are so excited," said Virginia head coach Julie Myers. "I think we played a pretty clean game and made our opportunities count just enough against a really, really well-coached, feisty and very aggressive Princeton team. I think they made us work incredibly hard today and really made a game of it. Our draw controls were clutch at key moments. We were able to shoot just accurately enough. I think our defense gave some good Princeton attackers a hard time today."
Junior Courtney Swan (Vero Beach, Fla.) had six points, scoring four goals with a pair of assists. Seniors Maddy Keeshan (Greenwich, Ct.) and Liza Blue (Butler, Md.) each scored a hat trick. Junior Casey Bocklet (South Salem, N.Y.) scored two goals with an assist.
Princeton's Erin Slifer also had a four-goal performance. Mary-Kate Sivilli scored three goals. Sarah Loyd scored a goal with two assists.
Virginia jumped out to a 4-0 lead with Swan scoring a hat trick in the first ten minutes of the game. The Cavaliers took an 8-4 advantage into halftime after Keeshan scored a free position goal with 33 seconds remaining in the period.
Princeton scored the first two goals of the second half to cut the deficit to two, 8-6. Virginia had four different players score during a 4-0 run that gave the squad a 12-6 lead heading into the final 14 minutes of play. Princeton countered with a 4-0 run of its own, capped by back-to-back goals by Sivilli within a minute of one another, to narrow the score to 12-10 with 3:29 remaining.
After senior Blue won the ensuing draw control, Keeshan scored an empty-net goal with 1:42 remaining to give Virginia a three-goal edge. Blue won the ensuing draw control, but the Cavaliers turned the ball over and Princeton took advantage of the miscue, with Slifer scoring on a free position shot with 56 seconds remaining. Blue won her third-straight draw control after the Slifer score. The Virginia attack was able to run out the clock and secure the victory.
"Princeton, they always come back," Blue said. "We knew that we needed to keep our composure at the end. We played pretty hard, under the hot conditions, and we were very happy to come out with the win."
Virginia outshot Princeton 17-9 in the first half, but the Tigers held a 16-10 advantage in the second half. Virginia had a 15-11 overall advantage in draw controls, with Swan and Blue each winning five.
Virginia senior goalkeeper Liz Colgan (Cockeysville, Md.) logged six saves. Princeton's Carolina Franke made seven stops.
Virginia is 30-22 in the NCAA Tournament games with 13 semifinal appearances, eight trips to the national championship game and three NCAA Titles (1991, 1993, 2004). Last season, the Cavaliers won a pair of games to advance to the quarterfinals before falling to eventual-national champion North Carolina, 13-9, in Chapel Hill.