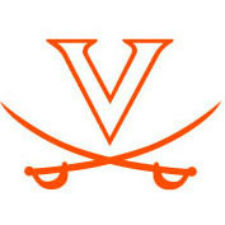 The top-ranked UVa. baseball team scored a 3-2 win over east carolina Friday afternoon at Davenport Field. Brandon Downes (Jr., South Plainfield, N.J.) hit a pair of solo home runs to support a strong UVa pitching effort, highlighted by 6 1/3 innings of two-run baseball from starter Nathan Kirby (So., Midlothian, Va.).
Making his first career Friday start, Kirby (2-0) allowed just a pair of runs, four hits and two walks while striking out three. After Whit Mayberry (R-Sr., Alexandria, Va.) worked 1 2/3 perfect innings, Nick Howard (Jr., Olney, Md.) pitched a 1-2-3 ninth inning to record his first career save. The trio combined to allow just four hits and retire the final 15 east carolina batters.
ecu starting pitcher Jeff Hoffman (0-1) went 6 2/3 innings, allowing three earned runs, five hits and three walks while striking out six in taking the defeat. The junior is preseason All-American and currently is listed as Baseball America's No. 2 prospect for the upcoming MLB Draft.
Virginia (4-1) jumped ahead in the second inning on a one-out solo home run to left-center field by Downes.
ecu (3-2) moved ahead in the third inning. The Pirates loaded the bases with two outs as Kirby battled control issues after walking Garrett Brooks and plunking Drew Reynolds with a pitch. After going 3-0 to Zach Houchins, Kirby battled back and got Houchins to pop up on the infield, but the ball was lost in the shadows and dropped for a single, with two runs scoring.
Virginia tied the game in its half of the third as Branden Cogswell (Jr., Ballston Lake, N.Y.) drew a two-out walk and Mike Papi (Jr., Tunkhannock, Pa.) stroked an RBI double to left-center.
Downes went deep again in the sixth inning, sending a towering shot into the left-field bleachers to lead off the inning and give the Cavaliers a 3-2 lead. The home run was Downes' third of the year. It also marked his first career multi-home run game and the first by a UVa player since Joe McCarthy hit two at Wake Forest on April 8, 2013.
Virginia and ecu play the second game of the three-game series at 1 p.m. Saturday. Because of the UVa men's basketball game against Notre Dame at 2 p.m., baseball parking on Saturday is limited to the Emmet/Ivy Garage. A live audio broadcast is available through a Cavaliers Live subscription on VirginiaSports.com.