P-Nats rally past 'Cats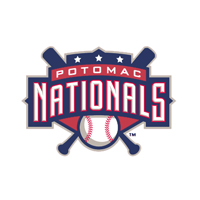 Despite Barrett Kleinknecht hitting a home run for the third time in the homestand, the Hillcats could not overcome four unearned runs in the eighth inning and fell 6-3 to the Potomac Nationals Wednesday night.
The Nationals got a spark with two outs in the third inning to score the first run. After starter David Hale pitched the first two and two-thirds innings without giving up a hit, he gave up three in a row, including an RBI single by Destin Hood, and Potomac took a 1-0 lead.
Barrett Kleinknecht continued his hot homestand in the third. With two outs, he hit a solo home run to left-center, tying the game at one. It was his third home run in four nights.
Starter David Hale pitched very well for the Hillcats. Hale pitched six innings, giving up just one run and striking out a career-high nine batters.
The pivotal play in the game came in the top of the eighth. With two outs and runners on second and third, Sean Nicol hit a grounder to Andrelton Simmons at short. Simmons made a short throw to first and Joey Terdoslavich was unable to handle the hop. Four runs went on to score in the inning, putting the Nationals ahead 5-1.
The Nationals added one more in the top of the ninth, and despite Joey Terdoslavich hitting a two-run home run, the Hillcats fell 6-3.
The win clinched a playoff birth for the Nationals, and in turn, eliminated the Hillcats from the playoff hunt.
Nationals starter Adam Olbrychowski (5-7) earned the win. Eliecer Cardenas (4-3) took the loss despite not giving up an earned run. Cameron Selik recorded the last out of the ninth inning to earn his first save of the season.
The Hillcats and Nationals continue their series Thursday night at City Stadium. Matt Crim (2-7) will pitch for the Hillcats and Paul Demny (9-10) will pitch for Potomac. First pitch will be at 7:05 pm and the gates will open at 6.
The Hillcats On-Deck Show presented by Honda/Suzuki of Lynchburg will go on the air at 6:40 pm. Tune in to 105.5 KD Country or go to lynchburg-hillcats.com to listen live to all the action.

Comments