East Rockingham Senior Center: East Rock attended Monster Mash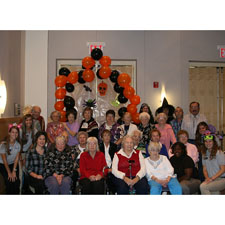 Nineteen East Rock Senior Center members and two volunteers attended the JMU Student Nurses' Association "Monster Mash" themed senior prom at the JMU Festival Center on Oct. 5. The ghoulish decor provided us with some gentle reminders that October has, indeed, arrived.
This annual event is always enjoyed and allows attendees to win a variety of door prizes, shake a leg to a variety of musical selections (including the hokey pokey), and enjoy an assortment of finger foods. As a bonus this year, attendees were encouraged to bring cans of food for the area food bank, and for every can of food each member brought, they were given an extra raffle ticket, which increased their chances of winning a prize.
East Rock invited some guests who were able to enjoy all or part of the day with us: Valerie Evans (Rockingham Recreation Department); Anna Stell and Donna Cash (Avante' at Harrisonburg); Cristin Sprenger (Extension Office); and John Scott (Aide to Congressman Bob Goodlatte).
While attendance was half of previous years, since our friends from the north in the Shenandoah AAA service area did not attend, we still had a great time seeing our friends in the H/R Region and those from Staunton and Waynesboro.
More info at www.EastRockinghamSeniorCenter.org.

Comments