Chris Graham: Could conservatives unify to upset Allen?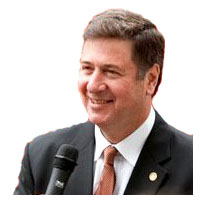 The short answer: It would be a long shot. But right now it's a much longer shot that anybody in the rest of the crowded GOP Senate primary field will be able to knock off frontrunner George Allen.
Allen has been running consistently in the upper 50s to mid to upper 60s in the polls for the Republican nomination and is in a virtual dead heat with Democrat Tim Kaine in polls looking ahead to the 2012 general election. Tea Party stalwart Jamie Radtke has the lead in the race for second, but Radtke hasn't been able to consistently crack the 10 percent barrier.
But say the rest of the field decides to throw its support to Radtke. It's not as if she (or another similarly chosen anointed intraparty opposition candidate) would automatically bump up from single digits to somewhere in the 30s overnight. It could very well be that Allen would see his support grow among those GOP primary voters for whom Allen would have been a second choice to their preferred candidate. It could also be that the departure from the race of that preferred candidate could disarm and demobilize that candidate's supporters, who could just leave the primary altogether.
That having been said, my thinking on this is that the similarities among the challengers to Allen – all of whom are running to the right of the former governor and senator, albeit with nuanced points of individual emphasis issue-wise – could give rise to something of a bona fide challenge to the establishment candidate if those candidates were to decide to coalesce around one from their group. And say it was Radtke, who has demonstrated an ability to raise money in decent amounts for someone running well behind in the polls in a crowded field, well, campaigns are all about organization, message being equal. I could see Radtke eventually getting a bump into the 30s in the polls and seeing her campaign treasury (and thus organizational strength) get a similar bump, but really only if she was to be the lone challenger with the unified support of the hard right and the Tea Party.
To put it in football terms, as Allen, a former UVa. quarterback, so often likes to do, the spread offense being run by the right won't work nearly as well as a ground attack that runs right into the teeth of the Allen campaign defense.
To the next question: Do I see any of this happening the way I think it would need to happen for Allen to have anything to worry about next spring? No, I don't.

Comments