Culture
WWII Warbird Showcase event to display, offer rides during two-day event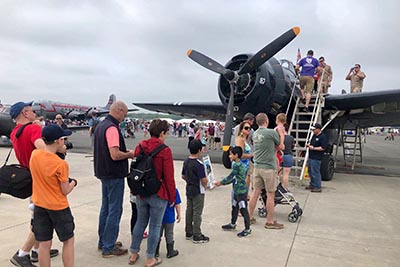 The Capital Wing of the Commemorative Air Force has rescheduled its Warbird Showcase event at the Warrenton-Fauquier Airport in Midland to July 16 and 17 from 10 a.m. to 4 p.m.
The military aviation event was cancelled in May due to weather.
The showcase will offer attractions for the entire family.
Aircraft on static display will include the world's only flying Fuji LM-1, a Piper Cub J-3 and a Cessna 162 or 172. The Capital Wing will have a B-26 turret 50-caliber machine gun turret on as well as its "PX" trailer selling warbird-related items.
Ever wanted to walk on the wing of an airplane? Or see what the cockpit of a WWII torpedo bomber looks like? You can do both at the Warrenton Warbird Showcase.
The Capital Wing will set up its one-of-a-kind "Wing Walk" on its General Motors TBM Avenger torpedo bomber. For a $2 donation to the non-profit Capital Wing, anyone can walk on the wing of the largest single-engine bomber of WWII, look in the cockpit, and take a photo with one of the most unique aircraft ever to fly with the US Navy and Marines.
The Experimental Aircraft Association will have a food truck available so the public can get lunch without having to leave the airport.
There is no parking or admission fee to the event.
In addition to the free event, rides are also offered on several WWII warbirds.
WWII warbirds scheduled to appear and flying rides include a TBM Avenger torpedo bomber, Fairchild UC-61 Forwarder and two Boeing PT-17 Stearmans.
"It is our mission to keep these rare and unique aircraft flying as a tribute to the thousands of men and women who built, serviced and flew them," said Pete Ballard, Warbird rides coordinator for the Capital Wing. "For us in the 21st century where we rely on computers for most everything, it is amazing to realize these warbirds were designed with pencil and paper using slide rules."
Flight seats not sold in advance will be available for sale on site at the Warbird Showcase. Warbird rides start at $150 for a flight in the Fairchild "Family Flyer" which carries up to three passengers.
The rides are subject to pilot and aircraft availability, maintenance and weather.
Advance ticketing for flight seats for any warbird are available online at www.capitalwingwarbirdrides.org/
The Capital Wing is a non-profit 501(c)(3) organization staffed entirely by volunteers. For more information, contact [email protected].