Why VideoProc is the best 4K video editor and converter for social media sharing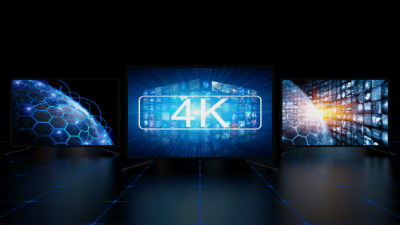 4K videos have currently become one of the main parts of the video content on the Internet with the sharpest and most life-like video presence. They have a higher resolution than 1080p videos while don't exaggeratedly bulge as 8K.
But what is 4K exactly? It refers to a display resolution of around 4k pixels horizontally. What we commonly use is 3840 x 2160 (3840 pixels in width and 2160 pixels in height). Accurately, it is called 4K UHD. But pixels vary according to different aspect ratios, e.g. DCI 4K (full frame) consists of 4096 x 2160 pixels for its aspect ratio of 1.9: 1.
From stunning long documentary videos to short hit vlogs on YouTube, 4K has become the primary option for both video creators and audiences. One of the reasons is that more and more devices are developed to record and play 4K videos. For instance, Apple has supported 4K at 30 fps since iPhone 6s (plus), let alone modern DSLRs, GoPros or Drones, which support a higher frame rate than smartphones.
In such a way, people are competent to shoot 4K videos with DJI/GoPro, iPhone and upload 4K to YouTube, Vimeo and more video sites at their fingertips. A YouTube research shows that 68.2% of videos on the first page of YouTube are in HD, indicating that video quality is one of the keys to ranking higher on YouTube. As for viewers, 4K brings fantastic visual experience, especially on bigger screens.
However, 4K videos trouble users at the same time. These space-consuming videos are contained in various formats at a different frame rate or bitrate. And only certain types of them are supported by YouTube. So besides routine video editing, you have the heavy 4K video conversion and compression to complete. Primarily, to make 4K editing and converting more effective, let's figure out what kind of 4K video that YouTube supports.
Requirements for Uploading 4K Videos to Social Media – YouTube as an Example
Handy though it is to shoot and share 4K videos, YouTube puts many restrictions on videos uploading. It requires a standard aspect ratio of 16:9, and the file size must be under 128GB. Besides, there are more requirements for formats, video codes, bitrate, etc.
Video Format: YouTube is compatible with MOV, AVI, WMV, FLV, WebM, MP4, among which MP4 is the most recommended container that YouTube claims officially. But not all devices shoot 4K videos that fit YouTube very well. For example, if you shoot a 4K video with your Sony digital camera, the video might be recorded in AVCHD, a format not compatible with YouTube. Then you have to convert it to MP4
Video/Audio Codec: Codecs determine how the video/audio data is encoded and decoded. For video, YouTube supports H.264 (progressive scan, 2 consecutive B frames, 4:2:0 for chroma subsampling). And audio codec should be set as a stereo with a sample rate of 96khz or 48 khz. Generally, most of video/audio codecs meet YouTube requirements. You just need to check their values. If you need to customize them, then you need a powerful converter that shows every detail of these parameters.
Frame Rate: Common frame rates supported by YouTube include 24fps, 25 fps, 30 fps, 48 fps, 50 fps, 60fps and more. YouTube also requires videos encoding and uploading in the same frame rate to the original. So just keep the original frame rate while editing and converting 4K videos.
Bitrate: Bitrate is used to describe the speed at which the data is transferred from one place to another. For 4K videos at 24fps, 25 fps, 30 fps, the bitrate for SDR upload on YouTube ranges from 35 – 45 Mbps, others of higher frame rate from 53 – 68 Mbps. And the recommended bitrate for 4K HDR uploads is 44-56 Mbps (24 fps, 25fps, 30fps), or 66-85 Mbps (48fps or higher). So you should set the bitrate in terms of the frame rate and upload the type of your 4K video.
Once you neglect any one of these rules, 4K uploading failure may occur unexpectedly. In addition, 4K is pretty space-consuming. Average YouTube vlogs are shot around 10 minutes. If it's 4K at 24fps, it will reach up to 14+GB, which is a huge challenge for both editing and uploading online. Your computer may crash, lag, or freeze frequently while editing large 4K videos. The exporting from editing software and the final uploading to your YouTube channel are both challenges to your patience.
Now VideoProc comes as the Best 4K/DJI Video Editing and converter for social media sharing, targeting at cumbersome high-re video processing problems. It supports 370+ video formats and performances quite smoothly and fast when editing and converting large 4K videos, even on old or low-end computers by its level-3 hardware acceleration tech.
VideoProc: Edit, Compress and Convert 4K Videos for Social Media Sharing in One Stop
VideoProc is robust 4K video processing software that tackles easy 4K video edits, compression and conversion with lossless quality. With its specific social media format settings, like YouTube, Facebook and Vimeo, you can import any 4K videos and convert it to upload to social media platforms successfully It also allows customizing video format, audio/video codecs, frame rate, bitrate, etc. to meet the requirements of different social media websites or app. For 4K videos too large to share on social media, it enables you to compress the file size without degrading much 4K video quality. And its full set of editing tools enables users to cut, merge, split, rotate, filtering, and more.
Although it's powerful like a pro editor, it doesn't require much editing skills and high-end computer configuration. You can follow either the video or the text tutorial below to finish 4K editing, compressing, and converting in one stop.
Import Your 4K Video/Videos to VideoProc.
Launch this program and click Video. Then hit +Video to load a 4K video or a video file. You can also download videos from some websites by pasting the link to its Downloader, and then load the downloaded video to VideoProc to edit.
Choose an Output Format Compatible with a Specific Social Media Platform.
Click Target Format on the lower side, choose Web Video Profile and click Facebook Video, Vimeo Video, or General Web Video, which have been preset compatible with different social media websites and apps.
Easy Edit to Organize and Polish Your 4K Materials.
Go back to the main interface, and cut, crop, rotate, add effects, watermark and subtitles to your 4K video in the editing bar if necessary. More functions can be found in Toolbox in the lower side
Option: Customize the 4K Video Codec Options.
If you have more requirements rather than uploading 4K videos to YouTube, Facebook or Vimeo, click Codec Option beside the editing bar. You can adjust video codec, frame rate, resolution, and aspect ratio for uploading 4K videos to more social media platforms accordingly.
Export 4K Videos and Upload to Social Media Online.
Choose an export folder to save the file, and tick the box under the Hardware Acceleration Engine to speed up the exporting process. Then you can hit RUN to export. At last, upload this edited or converted 4K video to your YouTube channel or other accounts.
Summary
In the future, more high-resolution videos will be posted on social media apps and websites. The only way for us to proceed is to constantly explore high effective tools to help complex video process. But now, 4K is still one of the main factors to make a successful video and gain fantastic visual experience on social media platforms. VideoProc is exactly the tool that offers opportunities to anyone who just starts 4K video content creation. You can edit 4K videos fast without losing any opportunity to share it timely.