Local
'We're going to be here for you:' Sentara celebrates new facility in Staunton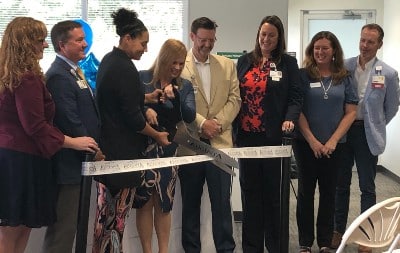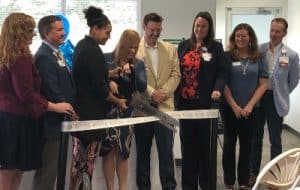 After delays caused by the COVID-19 pandemic, the first Sentara Primary Care in Staunton is ready.
"We are very excited to have the building open and have patients," said Alyssa Pacheco, brand engagement consultant for Sentara Blue Ridge.
A ribbon cutting and ceremony were held Wednesday afternoon at 103 Community Way, down the hill from Big Sky Apartments, near Walmart and across Richmond Avenue from Martin's.
The 11,000-square-foot facility formerly housed Ryan's Steakhouse.
Before the ribbon cutting, Sentara's Vice President of Ambulatory Services Kurt Hofelich said the facility is a milestone for Sentara. Meetings were held with Staunton City Council just before the COVID-19 pandemic lockdown began.
Dr. Erica Formato, a Staunton native, will begin to see patients five years and older on Monday, Aug. 22 in Staunton. She was formerly with Sentara East Market Street Health Center in Harrisonburg. Walk-ins and appointments are welcome.
"She is very excited to call this home, and to be back here to support our local community," Hofelich said.
Hofelich has been in the medical community for 30 years, and was a physical therapist prior to his administrative role with Sentara. He said that patient needs and care have changed during his career. Sentara also learned a lot during the pandemic.
"We learned that delivering high quality health care, comprehensive health care, is no longer the mark of excellence, it is now the standard of what our consumers expect," Hofelich said.
Sentara turned efforts toward providing models of care based on convenience, access and availability.
"So, if you want relief for that sore throat before you go to work, or your child sprains their ankle while playing for the Staunton Storm, if you throw your back our while moving your child into their dorm at JMU," Hofelich said, Staunton's Sentara Primary Care is available. Or your child needs a last-minute sports physical because he just decided to join the team. "We're going to be here for you."
After business hours, patients will have access online to nurses to assess care needs. Hofelich said 4,000-square-feet of space is waiting at the new facility in Staunton to customize for the community's needs and fill gaps in care.
"In all, our goal is to take care of our neighbors right here in Staunton as we would take care of our own families, and provide high quality, personalized care backed by exceptional customer service," Hofelich said.
Sentara has supported the Staunton community with medical care in Harrisonburg and Charlottesville for years, but now will provide support right in the Queen City.
"We're thrilled for this additional access point here in Staunton," said Catherine Hughes, Vice President of Operations at Sentara RMH Medical Center.
Hughes said that 10,000 Staunton residents seek care at Sentara RMH in Charlottesville. Through a partnership with the hospital, Sentara provides care for the Staunton community. Sentara RMH in Harrisonburg treats 1,000 Staunton residents.
"Our vision is to improve health every day and we actually don't want you to have to come to the hospital for services," Hughes said Wednesday afternoon.
Sentara Primary Care & Therapy Center offers quick, convenient care of primary care services and walk-in care for minor illnesses and injuries, physical therapy, and X-ray services in one location Mondays to Fridays, 8 a.m.– 5:00 p.m. The phone number is 540-437-7920.