Richmond Police seek missing, possibly endangered, 16-year-old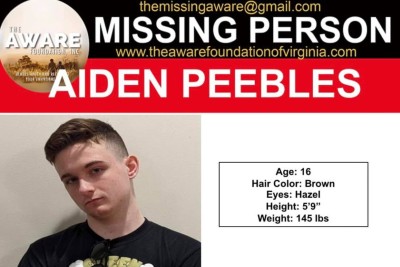 The Richmond Police is seeking the public's assistance in locating missing 16-year-old Aiden "TK" Peebles.
Peebles was last seen on April 22 in the 3900 block of Broad Street in Richmond. He was wearing a white T-shirt & jeans.
"TK" is 5'9", 145 lbs with brown hair and hazel eyes. He has a tattoo of "5 dice-like dots" on his left hand & visible scars on his arms.
He has several health issues including diabetes, thyroid, as well as mental health issues, which require medications that he is without.
If anyone has any information regarding his whereabouts, contact the Richmond Police Department (Youth & Family Crimes) at (804)-646-0400.