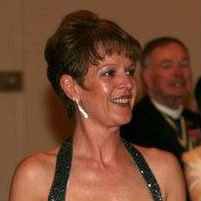 Column by Linda R. Jones
The last time I saw my father alive was six weeks before he died.  I knew he didn't have much longer, but I couldn't admit it to myself then.  His breathing was labored.  He could barely walk.  His health had deteriorated exponentially over a few months yet his mind was still intact.  He was frail and frustrated.  This is not how I expected to see my father.  He had become a sickly old man.  That's the picture I've had stuck in my head since he died: sickly, dependent, and weak.
While I was trying to think about the vibrant man my father really was in life, I received a pleasant phone call from a good friend of his who told me she found a fairly large box of photographs.  It had been overlooked and she was eager to send it to me.
I wasn't sure how I would receive this box of memories.  I was concerned I would be hit with those waves of sadness.  I left the box unopened for a few days and then decided I would go through it alone.  I would take my time and I would deal with whatever emotion came over me.
My father's life unfolded before me when I started sorting through the photographs and an album from his 70th birthday party.  There were photographs from every decade of his life.  The one constant was my father smiled, laughed, grinned, or appeared to be up to shenanigans in every picture. Even in the pictures that weren't staged, my father was happy and enjoying life; allowing me to find comfort and peace.
I arranged pictures in some type of chronological order on my kitchen table.  I analyzed every one.  A black and white picture from when he was about 3 or 4-years old, probably taken in 1933 or 1934, was a starting point.  He was dressed in a clown costume for Carnival and already he had that unique grin on his face.  I smiled.  That photograph was taken before the war would ravage Germany.  I found a few pictures from his school years during the war.  He was always the clown, always with that same grin on his face.
The pictures continued through his twenties, after the war, and again, smiles and laughter.  Even a war couldn't stop my father from enjoying life. I went into his thirties, when he emigrated to the United States, and there he is trying to strike a pose in a sharp suit but still with that smirk.  His forties, fifties, and sixties were filled with photographs (now in color) of my father at parties, festivals, singing, and so often in front of a microphone, telling jokes and singing.  And he was always surrounded by so many people; people who enjoyed his zest for life.
The photographs from his 70th birthday party album were particularly memorable for me because I was there.  We had to rent a venue in New York and it was packed with family and friends.  In his album, I came across a poem that I had written for him and read at the party.  I had forgotten about it.  He had kept it and meticulously arranged it in the photo album.  It was followed by a picture of my father and me dancing.  Again, he was smiling and laughing, and so was I.
Amongst thousands of photographs, I discovered a prize and I wasn't even looking for one; a professional photograph, wallet size, of my father wearing a traditional German Trachten jacket.  His hair was now completely gray, he had a few more wrinkles, but he was smiling. I finally have a picture of my father in my wallet.  I won't have to search through my iPhone to find him.  I have a different image in my head now when I think of my father.  I think of him as the vibrant and happy man that he was.  I will leave these photographs scattered across my kitchen table for a while to remind me of the best years of his life and hopefully the images of him withering away in his last few months will fade.
My healing journey continues.  Join me.  We can exchange pictures and reminisce about the good times.
(Henry Alfred Rudolph.  Born April 2, 1930.  Died March 2, 2015.)