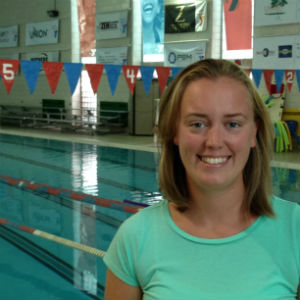 Kendra Hogg first jumped into a YMCA pool at the age of 1. A Rochester, N.Y., native, Hogg began swimming competitively in elementary school and rode the wave all the way to a Division I scholarship at Old Dominion University.
A 2009 graduate of ODU, Hogg is wrapping up her first week in the aquatics department at the Waynesboro YMCA, where she is the new elementary aquatics director and the developmental coach for the SMAC swimming program.
Hogg brings with her a community volunteer ethic. After graduating from ODU, she returned home to work at her hometown YMCA in Rochester, serving as the head coach of the swimming program and also teaching special-needs classes at the Rochester Y.
Her first impressions of the Waynesboro Y have been positive.
"It's a really great organization," Hogg said. "The Y here is really involved in this community. I'm really excited to be here. I hope I can help grow the swim lesson program and the swim team here."
Hogg looks forward to being able to share her love for swimming with Waynesboro-area youngsters.
"The focus is on building skills," Hogg said. "We work on stroke development. We work on building endurance. We work on just having fun in the pool, making swimming fun and making sure the kids enjoy it."
More online at www.WaynesboroYMCA.com.