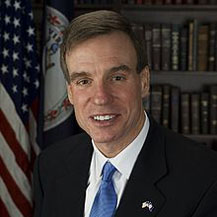 U.S. Sen. Mark R. Warner (D-VA) joined Sens. Mark Kirk (R-IL) and Jeanne Shaheen (D-NH) to introduce bipartisan legislation to improve access to life-saving medication for airline passengers with food and other severe allergies. The Airline Access to Emergency Epinephrine Act (S.1972) would require airlines to maintain a supply of epinephrine auto-injectors on commercial aircraft and to train flight crews on proper administration in the event of an allergy attack.
"As the parent of a child with severe allergies, I know that having an epinephrine auto-injector within reach makes a real difference in an emergency,"  said Sen. Warner. "This bill will give families peace of mind knowing that their loved ones will have access to this lifesaving treatment when they fly."
The Airline Access to Emergency Epinephrine Act would require commercial airlines to maintain at least two epinephrine auto-injectors (one adult dosage and one child dosage) on each aircraft and to train crew members to recognize allergy symptoms and administer epinephrine in the event of an allergy attack. Approximately 15 million Americans have food allergies that can cause fatal allergic reactions if not treated immediately.
S.1972 has been endorsed by Food Allergy Research and Education (FARE) Group, the Association of Flight Attendants, and the American Academy of Allergy, Asthma and Immunology.
Sen. Warner previously co-sponsored legislation to improve epinephrine access in schools that was signed into law by the President in November 2013.
"Air travel can be particularly stressful for individuals and families managing food allergies because they do not have access to emergency medical care," said Scott Riccio, senior vice president of education and advocacy at FARE. "This legislation will help address some of the biggest challenges faced by airline passengers with food allergies. Our hope is that the findings of the GAO report will lead to the development of clear, consistently applied accommodation policies to help passengers with food allergies make informed choices about their air travel plans. Furthermore, in the near-term this bill will ensure safer and more effective epinephrine treatment is available for in-flight emergencies."