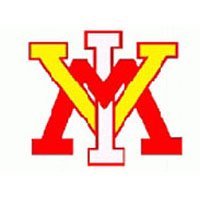 The VMI women's soccer team wrapped up its exhibition season Saturday night, dropping a 1-0 decision to the Marshall Thundering Herd in Huntington, W.Va.
The highlight of the night for VMI was junior Sydnie Bligh, who, after starting in the field, was pressed into duty as the match's emergency goaltender when Emily Marbury was removed for precautionary reasons after an early-match collision. Bligh made five saves, including stopping a penalty kick, but a 25th-minute goal by Erin Simmons stood up for the game-winner.
The match was the second of the preseason for the Keydets, as VMI also dropped a 1-0 decision on August 14 to VCU. An early goal again was enough for the home team on that occasion.
"Sydnie did a great job tonight," said VMI head coach Bryan Williams. "We saw some positive things throughout the exhibition season, including building some quality chances offensively. Freshman Amy Horney, along with veterans Sarah Putney, Bridgette Pouliot and Killian Buckley have all played well, while Emily Marbury was very strong in the VCU game. We look forward to the season opener on Friday."
VMI women's soccer opens its 2014 season Friday at Patchin Field, playing host to Howard at 4 p.m.