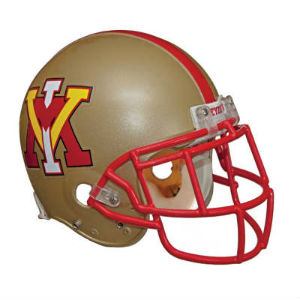 The VMI Keydets (0-5, 0-3 SoCon) remains winless during the 2018 season with a 48-38 loss to the Mercer Bears (3-2, 2-1 SoCon).
In a game where the Keydets had plenty of scoring chances, missed opportunities and mistakes leading to short fields for Mercer turned out to be costly for VMI. VMI trailed by as much as 21 points in the second have but, the Keydets were able to rally and cut the deficit to 41-38 before giving up another score and falling short.
In a game where the Keydets had plenty of scoring chances the missed opportunities turned out to be costly for VMI.
VMI struck first in the game when Quarterback Reece Udinski hit Javeon Lara for a 59 yard touchdown pass. Mercer then would score the next 20 points taking a 20-7 lead midway through the second quarter. VMI was able to fight back before the half and a 9 yard touchdown run by Quan Myers had the Keydets down 27-20 heading into the half.
The third quarter was a killer for the Keydets chances however as they were not able to put any points on the board and found themselves in a 41-20 hole. VMI had three trips in the redzone put came away with no points and it seemed that the breaks were just not going to fall the Keydets way.
After one of their failed redzone attempts VMI finally caught their break. Mercer had a high snap in the endzone and by the time Mercers quarterback Kaelan Riley came down with the ball, VMI'S Chuck Weatherman was able to bring him down for the safety.
That safety began the VMI rally as the offensive began to move the ball through the air. Udinski found Jakob Herres for a 14 yard touchdown and after a successful two point try cut the Mercer lead to 41-30. The next VMI drive was all about wide receiver Kris Thronton who made a couple of great toe tapping catches that ended up helping VMI score once again making it 41-38 Mercer after a three yard touchdown pass from to Thronton.
With 2:02 left to play VMI would try an onside kick but fail to recover, and soon after Mercer running back Tyray Devezin would have a 34 yard touchdown to increase the Bears lead to 48-38. On VMI's next drive Udinski would throw an interception sealing the win for Mercer.
Udinski was 37-70 for the Keydats with three touchdowns and two interception. Myers led the team in rushing with 66 yards and two touchdowns on 21 carries while Thronton had 11 receptions for 155 yards and a touchdown. The Keydets are off next week but travel to Samford (1-3) on the 13th of October.
Story by Seth Megginson