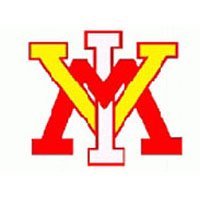 Reed Garrett fired a complete game and allowed just one run, while Tanner Dofflemyer had the first three-hit game of his career to send the VMI Keydets past the Longwood Lancers, 3-1, in Big South baseball action Thursday at Gray-Minor Stadium in Lexington, Va.
The Keydets (21-14, 9-7 Big South) scored a single run in each of the first three innings, taking advantage of six walks and a hit by pitch by Longwood (14-24, 4-12) starter Mitchell Kuebbing (1-3), who lasted only three innings. That would be all Garrett (5-4) would need as the junior fired his second complete game of the year, allowing only an eighth-inning run en route to scattering four hits and striking out eight. Garrett needed just 108 pitches, including only four in the ninth, to complete the victory.
At the plate, meanwhile, Dofflemyer had three of VMI's five hits and was robbed by Longwood second baseman C.J. Roth in his other at-bat to go 3 for 4 on the evening. The freshman shortstop singled in the second, third and eighth innings to post his new career-best game.
VMI took the early lead with a two-out rally in the first inning. Brandon Angus was hit by a pitch from Kuebbing and stole second. Eric Mayers then walked with Angus stealing third on the play, and Mayers advanced to second on a ball in the dirt. David Geary then walked on a 3-2 pitch, loading the bases for Cameron Walter, who was issued a free pass as well to force in a run and give the Keydets a 1-0 lead.
That margin grew in the second, when Dofflemyer started a rally with a one-out single. Jordan Tarsovich followed with a single of his own, and one out later, Angus walked. Mayers was then hit by a pitch, scoring Dofflemyer to make it 2-0, VMI. The Keydets nearly got more, but a diving catch in short center field by Longwood's Colton Konvicka ended the inning.
The Keydets did add on in the third when Walter led off with a single. One out later, Winn walked and Dofflemyer had a bunt single to load the bases. After a strikeout, Will Malbon walked on a 3-2 pitch to score Walter and put VMI in front, 3-0.
Allen Ellis relieved Kuebbing for Longwood in the fourth and pitched very well, allowing just one hit in five innings and not walking a batter. The Lancers, however, could not muster a rally against Garrett until the eighth inning, when Roth led off with a single and advanced on a wild pitch. A fly ball moved the runner to third, and he scored on Konvicka's RBI groundout to make it 3-1, VMI, and account for the final margin.
In defeat, Longwood saw Roth go 2 for 3 with a run scored. The win put VMI at seven games over .500 on the year, the furthest VMI has been over the .500 mark since being 11 games over at the conclusion of the 2010 season.
At one hour, 52 minutes, Thursday's game was the third-quickest nine-inning contest in Gray-Minor Stadium history, trailing only Garrett's no-hitter earlier this season and an April 26, 2013 loss to Liberty, which were clocked at 1:50 and 1:51, respectively.
VMI baseball returns to action Friday, playing host to Longwood for game two of the three-game series between the clubs. First pitch is set for 6 p.m.