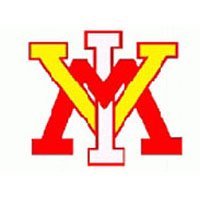 The VMI Keydets jumped out to a 7-0 lead early and held on as Berkley Hawkins pitched out of a ninth-inning jam for the save to send VMI past the Charleston Southern Buccaneers, 7-6, in Big South baseball action Friday in Lexington, Va. With the victory, the Keydets stayed alive in their quest for a berth in next week's Big South Championship tournament.
After VMI (24-22, 10-15 Big South) scored seven runs in the first two innings, Charleston Southern (29-23, 11-13) scored four times in the fourth, once in the sixth and once in the eighth to pull within one. Hawkins retired the first two hitters he faced in the final inning, but then allowed singles to Chase Shelton and Zack Hagaman. Cody Austin walked to load the bases, but pinch-hitter Matt Witt struck out on a 1-2 pitch to end the game and preserve VMI's tournament hopes.
VMI's offense continued its late-season resurgence by posting 13 hits, including four of the top five hitters in the order going 2 for 4. Tanner Dofflemyer chipped in two hits as well, while VMI worked around three-hit games by Bobby Ison, Shelton and Hagaman.
On the mound, Reed Garrett (6-6) picked up the win after allowing five runs, three of which were earned, in six innings. He walked three and struck out six. Tory Schroff took the loss to fall to 5-3, as he was knocked out in the second inning after allowing seven runs (five earned) in 1 2/3 frames of work. Hawkins notched his fourth save and second of the week.
VMI took advantage of poor CSU defense in the first, as after David Geary led off with a single, Jordan Tarsovich singled with one out to put runners at the corners. Eric Mayers then grounded back to the mound, only to see Schroff bobble the ball for an error that loaded the bases. Matt Winn then grounded into a fielder's choice to score the game's first run, and Cameron Walter followed with a ground ball to short that Kevin Hickey could not get out of his glove. The error allowed Tarsovich to score and made it 2-0, Keydets.
The Keydets then blew the game open, if only for a time, in the second inning. Dofflemyer singled with one out and Geary followed with a ringing double. Brandon Angus then singled home a run and Tarsovich lofted a sacrifice fly to right field to make it 4-0, VMI.
Mayers then grounded to shortstop Hickey, who made the play but threw wildly for his second error in as many innings. That put runners at second and third and Winn followed with a two-run single for a 6-0 lead. Walter then doubled home Winn to make it 7-0, VMI, and knock CSU starter Schroff out of the game. It was the earliest VMI had knocked an opposing starter out of the game this season.
The visitors started a comeback in the fourth, when Shelton singled home a run to put the Bucs on the scoreboard and Hagaman followed with a long three-run home run to right field, his second long ball of the year to make it 7-4, VMI. Hagaman also scored the Bucs' fifth run, doing so on a wild pitch in the sixth to cut the margin to 7-5.
The Keydets threatened in the sixth after Angus and Tarsovich had back to back bunt singles with one out, but on Tarsovich's hit, Angus rounded the bag at second base too far. Pitcher Kyle McDorman threw behind him and Angus was tagged out 1-6-5, preventing a potential rally.
CSU saw Shelton single with one out in the seventh, and one out later, Austin hit a hard grounder back up the middle. Tarsovich, however, ranged into short center field to snag the grounder and made an awkward flip to Dofflemyer covering for a spectacular fielder's choice, ending the inning.
VMI would see more spectacular defense in the eighth, when Angus made a highlight reel diving catch of Sam Remick's sinking liner in short right-center field. That play proved huge moments later, as Nick Berry followed with a single and Ison drilled a 0-1 pitch into the right field corner, scoring Berry to make it a one-run game. Ison, however, was thrown out trying to stretch his RBI double into a triple, thanks to a perfect relay throw by Tarsovich to third base. The inning ended on the 9-4-5 putout and the stage was set for the ninth-inning dramatics.
In the victory, Angus stole his 28th base of the year to move within five of David Groseclose '95's VMI single-season record, set in 1995.
VMI baseball will return to action Saturday, as the Keydets close out the regular season with a doubleheader against Charleston Southern. First pitch of game one is set for 1 p.m., while VMI will honor its first classmen in a ceremony approximately 30 minutes before the game.