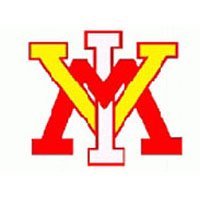 Every starter for the VMI Keydets had at least one hit, sending their team to a 9-3 win over the Gardner-Webb Runnin' Bulldogs in Big South baseball action Friday night in Boiling Springs, N.C. The victory was VMI's fifth straight win, all of which have come in conference games. That win streak is the program's second-longest in Big South games since joining the league prior to the 2004 season, trailing only a seven-game run in 2010.
Gardner-Webb (9-17, 2-5 Big South) took the early 1-0 lead in the first, but the Keydets (14-9, 5-2 Big South) tied the game in the second and then exploded in the third. VMI took advantage of three walks to notch five runs on just three hits, including a two-run single by Eric Mayers and a two-run triple by Will Connerley, to go up 6-1 and cruise to the eventual victory.
All nine VMI starters had at least one hit, with Mayers going 2 for 4 with two RBI and a run scored and Cameron Walter notching a 2 for 4 night that included his first home run of the year.
On the mound, Reed Garrett moved to 4-2 by allowing just one run over seven innings. He gave up six hits, striking out eight and walking just two. The Keydets hit GWU ace Matt Fraudin hard, tagging him for seven runs, six earned, over four innings. Fraudin had allowed just five earned runs in 48 innings coming in to Friday's game.
Gardner-Webb jumped ahead in the first, when Tyler Best hit a grounder down the third base line that drew chalk for a one-out double. After a walk, a wild pitch moved Best to third but Garrett got a ground ball to shortstop off the bat of Scott Johnson. Tanner Dofflemyer made the feed to Jordan Tarsovich but the throw to first was wild for an error, allowing Best to score for a 1-0 Runnin' Bulldog lead.
The Keydets countered in the second, as Walter led off with a long home run to left center that tied the score, 1-1.
VMI then seized command in the third, when Dofflemyer led off with a walk and Tarsovich followed with one of his own. After a bunt moved up the runners, Mayers singled through the left side to give the Keydets the lead for good, scoring both runners for a 3-1 edge. Walter walked, and one out later, Connerley hit a long drive to left center that center fielder Alex Newman got a glove on but could not catch. The ball went for a triple and two more runs scored, giving VMI a 5-1 lead. Josh Worthley followed with an RBI double to cap the five-run frame and give the Keydets a 6-1 lead.
The Keydets added runs in both the third and eighth innings on wild pitches and then the conditions took hold. The cool, damp evening caused a large amount of fog over the final four-plus innings, conditions which worsened in the last two frames. In the ninth, Matt Winn had a one-out double that appeared to be lost in the fog and eventually scored on a single by Dofflemyer to cap the Keydet scoring at 9-1, VMI.
GWU put together a rally in the ninth, loading the bases with none out. Berkley Hawkins relieved Austin Heenan and gave up a two-run single to Newman, but a fielder's choice out at home and two strikeouts ended the game with a 9-3 Keydet victory.
Gardner-Webb was led by Newman, who went 3 for 4 in the game.
With the five-game winning streak, VMI posted its second run of at least five straight victories on the year. That is only the fourth time in program history the Keydets have accomplished two five-game winning streaks or greater in the same year, joining 2005, 2008 and 2010.
VMI baseball is scheduled to return to action Saturday, facing Gardner-Webb in the middle game of the three-game weekend series. Game time is scheduled for 2 p.m.