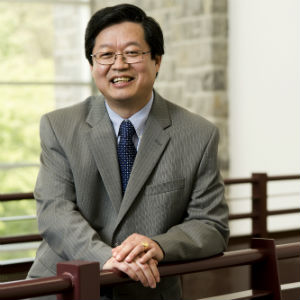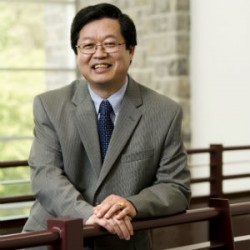 Dr. X.J. Meng, University Distinguished Professor of Molecular Virology at Virginia Tech, has been named a Fellow of the National Academy of Inventors (NAI).
Meng, a virologist at the Virginia-Maryland College of Veterinary Medicine, studies emerging and reemerging viral diseases that impact veterinary and human public health.
Virginia Tech President Tim Sands is the only other member of the university community who is an NAI Fellow.
"I am very pleased to welcome Dr. Meng to the Academy," Sands said. "The honor is well deserved and his work exemplifies Virginia Tech's spirit of research and discovery in service to humanity."
Meng is an inventor of 20 awarded and 17 pending U.S. patents, as well as 40 awarded foreign patents on vaccines and diagnostics of several important virus diseases. His accomplishments include the discovery of new viruses and the development of licensed commercial vaccines against important animal virus diseases.
The National Academy of Inventors selects Fellows who "have demonstrated a highly prolific spirit of innovation in creating or facilitating outstanding inventions that have made a tangible impact on quality of life, economic development, and the welfare of society."
Collectively, NAI Fellows hold nearly 14,000 issued U.S. patents and include 61 university presidents and senior leaders at research universities and nonprofits, 208 members of the three National Academies, 21 inductees of National Inventors Hall of Fame, 10 recipients of the National Medal of Science, 16 recipients of the National Medal of Technology and Innovation, and 21 Nobel laureates.
Meng will be recognized at a luncheon and induction ceremony at the Annual Conference of the National Academy of Inventors at the California Institute of Technology in Pasadena on March 20, 2015. The U.S. Patent and Trademark Office's Deputy U.S. Commissioner for Patent Operations Andrew Faile will perform the induction ceremony.
"Dr. Meng's accomplishments as an academic researcher and an innovator — including the discovery of two new viruses, receipt of numerous patents and considerable extramural funding, and the development of vaccines responsive to market needs — are remarkable," said Dr. Prem S. Paul, vice chancellor for research and economic development at the University of Nebraska-Lincoln, a charter NAI Fellow, and Meng's nominator.
Meng is widely considered one of the world's leading scientists in hepatitis E virus, porcine circovirus type 2, and porcine reproductive and respiratory syndrome virus. He developed the first U.S. Department of Agriculture fully-licensed vaccine to protect against porcine circovirus type 2 infection and its associated diseases in pigs, a major threat to the global swine industry.
Meng also discovered the swine hepatitis E virus in pigs, which led to the recognition of hepatitis E as a zoonotic disease.
Meng has authored or co-authored more than 270 peer-reviewed articles and book chapters. These have been cited more than 14,700 times by other researchers. Meng has been awarded more than 40 research grants as a principal investigator with more than $15 million, and he is also a co-investigator or collaborator on more than 50 other awarded grants of more than $27 million.
"Dr. Meng's body of work is of the highest quality, and it demonstrates the important role of university-based R&D in the development of solutions to societal challenges," Paul said.
"Selection as an NAI Fellow is a very worthy recognition of his efforts to translate cutting-edge bench science to the marketplace and have major impacts on animal and human health. Dr. Meng is highly deserving of this honor."
In 2013, Meng became the first faculty member at the veterinary college to be named a University Distinguished Professor by the Virginia Tech Board of Visitors. He received the Virginia Tech Alumni Award for Research Excellence in 2008 and the Pfizer Award for Research Excellence in 2001 and then again in 2008. Meng was elected to American Academy of Microbiology in 2012.
The Qingdao, China, native earned a medical degree from Binzhau Medical College and master's degree in microbiology and immunology at Wuhan University College of Medicine. He then completed a Ph.D. in immunobiology from Iowa State University's College of Veterinary Medicine.
Prior to joining the Virginia-Maryland College of Veterinary Medicine faculty, he worked as the John E. Fogarty Visiting Scientist and a senior staff fellow at the National Institute of Allergy and Infectious Diseases, a part of the National Institutes of Health.
The Virginia-Maryland College of Veterinary Medicine is a leading biomedical teaching and research center, enrolling more than 700 Doctor of Veterinary Medicine, master of public health, and biomedical and veterinary sciences graduate students. The college is a partnership between the land-grant universities of Virginia Tech and the University of Maryland. Its main campus in Blacksburg, Virginia, features the Veterinary Teaching Hospital and large animal field services which together treat more than 79,000 animals annually. Other locations include the Marion duPont Scott Equine Medical Center in Leesburg, Virginia, and the Gudelsky Veterinary Center in College Park, Maryland.