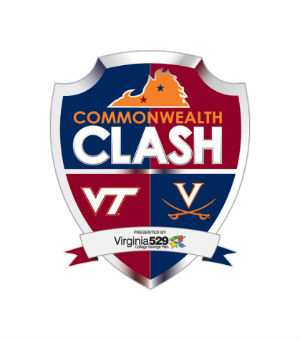 Virginia Tech used a late scoring drive to escape frigid Lane Stadium with a 24-20 win over UVA here Friday night. The win was the 11th straight for Tecgh over the Cavaliers and keeps the Hokies' bowl streak intact at 22 years.
Despite the teams' mediocre records, what happened in Blacksburg tonight will be long-lived in the memories of both fan bases. Virginia Tech's defense had not allowed a touchdown in more than two games,  and had a four-point lead late in the fourth quarter with Virginia pinned at their own 11 yard line. Virginia quarterback Greyson Lambert,  ineffective much of the night, guided  Virginia 89 yards in 10 plays, throwing a 20-yard touchdown pass to Zach Swanson with just under two minutes left in the contest to put Virginia ahead 20 -17.
Tech's bowl streak  was on the line, as well as its 10 -ear dominance over Virginia.
But as ESPN commentator Lee Corso would say, Not so fast, my friends.
A beaten and battered Tech quarterback Michael Brewer hit Bucky Hodges with a 50-yard pass, and Brewer found Hodges again for 9-yard touchdown to give tech the 24-20  lead with 1:48 remaining,
Virginia had one last chance and moved the ball down the field with backup quarterback Matt Johns leading the charge. The drive stalled, however, when John's was dragged down  with no time remaining on the clock preserving the win for the Hokies.
So Virginia Tech salvages somewhat of a dismal season with a win over archrival Virginia. And for the Cavaliers, just the same old same old: inexcusable mental lapses, ineffective use of timeouts, and the Cavaliers find themselves wondering what if again.
Virginia Tech is now 6-6 on the season and will await a postseason bowl bid. Virginia closes another dismal year with a 5-7 mark