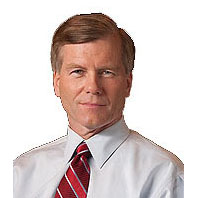 Most recently it was Tim Kaine being criticized by Virginia Republicans for considering a spot on the Democratic presidential ticket in 2008. Now Democrats are throwing up their arms at a suggestion by Gov. Bob McDonnell that it would be hard to turn down the second spot on the GOP national ticket in 2012 if asked.
"This announcement explains the Governor's public policy approach better than anything else," Democratic Party of Virginia executive director David Mills said today. "Short-term budgetary gimmicks, one-time privatization schemes and a transportation plan that robs schools, public safety and public health are not a recipe for good government; but they may just give Bob McDonnell enough time to move onto his next office before the reality of his mismanagement sinks in."
McDonnell told a Richmond TV news reporter on Monday that if a Republican nominee were to ask him to join a ticket as the vice-presidential nominee, it would "probably" be a difficult thing for him to turn down.
Kaine came under fire for inserting his name into the Democratic vice-presidential process in '08. The then-governor was reportedly a finalist for the spot, which eventually went to Delaware Sen. Joe Biden.
Then-governor Doug Wilder made a brief appearance in the 1992 Democratic Party presidential-nomination race and was criticized by Virginia Republicans at the time.
Story by Chris Graham. Chris can be reached at [email protected].