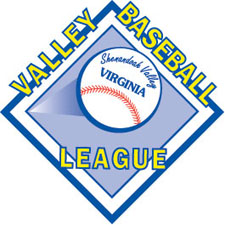 The 2014 Valley Baseball League All-Star game on Sunday, July 6, showcases the league's rising collegiate stars in an annual event attended by baseball fans and Major League Baseball scouts alike at Veterans Memorial Park, Eagle Field, in Harrisonburg.
All-Star players from the 11-team league (rosters are attached) will compete in two skills contests in the afternoon, followed by a 7:30 p.m. game pitting the "North" against the "South." The North squad is comprised of players from Aldie, Front Royal, Winchester, Charles Town, Strasburg and Woodstock and the South squad of players from New Market, Harrisonburg, Staunton, Waynesboro and Covington. Each team is represented by at least four players.
The North team is managed by Brad Neffendorf, of the Front Royal Cardinals and the South by Bob Wease, of the Harrisonburg Turks. Managers of the teams were determined by the highest teams in the standings at the conclusion of games through Sunday, June 29.
Tickets are $5 for adults and $3 for children. Souvenir baseball bats will be given to the first 100 children under 12 years old accompanied by a paying adult.
The gates open to the public at 3 p.m. Team batting practices will be from 3:30 to 4:50 p.m., followed by the 60-Yard Dash contest at 4:50 p.m. and the Home Run Derby at 5:20 p.m. Participants in the derby include Hunter Newman, Front Royal; Andrew Yacyk, Charles Town; Darian Carpenter, New Market; Matt O'Neil, Covington; Eric Kalbfleisch, Harrisonburg; Michael McClellan, Waynesboro; and Matt Rose, Harrisonburg.
The Valley Baseball League plays a 44-game season in the Shenandoah Valley of Virginia. The wooden-bat collegiate summer league, which was chartered in 1897, is sanctioned by the NCAA, funded in part by a grant with Major League Baseball, and affiliated with the National Alliance of College Summer Baseball.
Valley League has produced well over 1,000 professional baseball players. Last year, 27 Valley League alumni were playing in the Major Leagues. In the 2014 MLB Draft, 48 former players, including one current player, were drafted.
More information is available at www.valleyleaguebaseball.com.
All-Star South Team
Darian Carpenter, 1B, New Market, Virginia Commonwealth University (Richmond, Va.)
Joe Chittester, DH, New Market, University of Pittsburgh Bradford (Ridgway, Pa.)
Blake Edwards,SS, Covington, Columbus State University (Zebulon, Ga.)
J.C. Escarra, C, Staunton, Florida International University (Hialeah, Fla.)
Garrett Ford, LHP, Harrisonburg, Georgia State University (Loganville, Ga.)
Brandon Gold, 3B, Harrisonburg, Georgia Tech (Johns Creek, Ga.)
Cole Gruber, OF, Waynesboro, University of Nebraska Omaha (Papillion, Neb.)
Brandon Gum, SS, New Market, George Mason University (Woodbridge, Va.)
Garrett Kelly, RHP, New Market, Wake Forest University (Fresno, Cal.)
Eric Kalbfleisch, OF, Harrisonburg, UNC Greensboro (Pilot Mountain, N.C.)
Jimmy Kerrigan, OF, New Market, Temple University (Philadelphia, Pa.)
Kooper Kessler, RHP, Staunton, Middle Tennessee State University (Bolivar, Tenn.)
Kevin Lewallyn, RHP, Harrisonburg, Duke University (Stevenson Ranch, Cal.)
Mike Marcinko UT, Waynesboro, Shippensburg University (Philipsburg,Pa.)
Gunnar McNeill,1B, Staunton, Florida International University (Windermere, Fla.)
Matt O'Neil, 3B, Covington, University of Rhode Island (East Longmeadow, Ma.)
Jake Perkins, RHP, New Market, Ferrum College (Appomattox, Va.)
Blake Ream, RHP, Staunton, Longwood University (Yorktown, Va.)
Richie Ricciardi, 2B, Staunton, Alvernia University (Manalapan, N.J.)
Joey Roach, C, Harrisonburg, Georgia State University (Holly Springs, N.C.)
Joey Rodriguez, OF, Staunton, Wake Forest University (Miami, Fla.)
Matt Rose, DH, Harrisonburg, Georgia State University (Melbourne, Fla.)
Jeff Schank, LHP, Waynesboro, Butler University (Naperville, Ill.)
Thomas Smith, 2B, Harrisonburg, Georgia Tech (Fort Pierce, Fla.)
Thomas Spitz, OF, Harrisonburg, Wingate University (West Chester, Pa.)
Cody Strayer, RHP, Covington, Shawnee State University (Columbus, Ohio)
Ryan Testani, RHP, Covington, Seton Hall University (Shelton, Conn.)
Hunter Thomas, OF, Staunton, Georgia Southern University (Johns Creek, Ga.)
Zach Williamsen, RHP, Waynesboro, University of Nebraska Omaha (Omaha, Neb.)
Manager: Bob Wease, Harrisonburg Turks
All-Star North Team
Jake Anthony, RHP, Charles Town, Georgia College (Canton, Ga.)
Kevin Baron, 2B, Strasburg, La Salle University (Towson, Md.)
Mark Baughman, LHP, Woodstock, Louisiana Tech (Sugar Land, Texas)
Evan Bickett, RHP, Front Royal, Indiana University Southeast (Shepherdsville, Ky.)
Jose Bonilla-Traverso, OF, Strasburg, Florida Atlantic University (Aguada, P.R.)
Charles Cantrell, RHP, Winchester, North Carolina A&T (Cerritos, Cal.)
Humberto Delatorre, RHP, Aldie, University of South Carolina-Beaufort (Port Royal, S.C.)
Jerry Downs, 1B, Winchester, St. Thomas University (Miami, Fla.)
Tom Durkin, RHP, Strasburg, Coastal Carolina University (Tinley Park, Ill.)
Matthew Gandy, C, Charles Town, Chapman University (Tustin, Cal.)
Joe Giacchino, OF, Aldie, University of Delaware (West Chester, Pa.)
Jake Harper, LHP, Front Royal, St. Joseph's College (Frankfort, Ill.)
Logan Hoggarth, OF, Woodstock, Boston College (North Port, Fla.)
Dave Hoffmann, C, Woodstock, Siena College (Niskayuna, N.Y.)
Brock Hunter, LHP, Strasburg, Coastal Carolina University (Mclean, Va.)
Reece Karalus, RHP, Aldie, Santa Clara University (North Bend, Wa.)
Stephen Kerr, 2B, Charles Town, Florida Atlantic University (Margate, Fla.)
Keegan Long, RHP, Front Royal, St. Joseph's College (Edon, Ohio)
Alex Mata, SS, Winchester, St. Leo University (Fort Myers, Fla.)
Shell McCain, OF, Front Royal, Tennessee Wesleyan College (Fort Mill, S.C.)
Luke Mould, RHP, Winchester, University of Alabama-Huntsville (Athens, Ala.)
Austin Munn, RHP, Woodstock, Ave Maria University (Lafayette, Ind.)
Hunter Newman, 3B, Front Royal, Trevecca Nazarene University (Chapmansboro, Tn.)
Anthony Payne, C, Strasburg, West Virginia State (Hurricane, W.Va.)
Esteban Puerta, 1B, Woodstock, Florida Atlantic University (Cooper City, Fla.)
Nick Sinay, OF, Front Royal, University of Buffalo (Syracuse, N.Y.)
Austin Stephens, LHP, Charles Town, Grand Rapids Community College (Rockford, Mi.)
Garret Vrbanic, SS, Aldie, Seton Hill (Glenshaw, Pa.)
Spencer Wolfe, C, Front Royal, Shepherd College (Huntingtown, Md.)
Manager: Brad Neffendorf, Front Royal