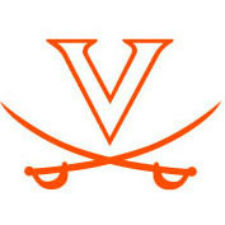 Defending NCAA champion Stanford defeated No. 3 seed Virginia 4-2 in the quarterfinals of the NCAA Women's Tennis Championship on Saturday (May 17) at the Dan Magill Tennis Complex.
The fourth-ranked Cavaliers end their season with a school-best 24-6 record, while No. 11 Stanford improves to 20-2 and plays North Carolina in the semifinals on Monday (May 19).
Virginia, who made its first NCAA quarterfinal appearance in school history, received singles wins from sophomores Danielle Collins (St. Petersburg, Fla.) and Maci Epstein (Winter Park, Fla.) in the loss.
"I'm really proud of our team," Virginia head coach Mark Guilbeau said. "I give credit to Stanford. I think we let the tradition of Stanford get us a little bit early in the match in doubles and that might have been one of the best points for us to win. You could see how tough our kids are, but it's really not easy to play from behind. I know this loss hurts, but we'll learn from it. I'm already looking a little bit ahead, but certainly want to respect today and the season, but we're optimistic and confident with what we have ahead of us."
Stanford took the doubles point and freshmen Taylor Davidson, Caroline Doyle and Carol Zhao claimed singles wins for the Cardinal.
The Cardinal captured the doubles point with wins at Nos. 1 and 2. No. 10 Kristie Ahn and Zhao beat Stephanie Nauta (Galveston, Texas) and Li Xi (Kunming, China) 8-2 on court one before Collins and Epstein answered with an 8-2 win over Doyle and Amelia Herring on court three. Stanford clinched the point when No. 50 Davidson and Ellen Tsay beat No. 7 Julia Elbaba (Oyster Bay, N.Y.) and Rachel Pierson (Princeton, N.J.) 8-5 on court two.
Stanford took a 2-0 lead with No. 50 Davidson's 6-4, 6-1 win over No. 76 Pierson on court four. No. 32 Collins sliced the lead in half with a 6-4, 6-3 win over No. 51 Krista Hardebeck on court two and Epstein tied the score at 2-2 with a 7-6 (7-5), 6-3 win over No. 54 Tsay on court five.
The Cardinal gained a 3-2 advantage with No. 57 Doyle's 6-2, 3-6, 6-0 win over Caryssa Peretz (Cherry Hill, N.J.) on court six. No. 21 Zhao clinched the win with an impressive 7-6 (7-1), 7-6 (7-4) win over No. 53 Nauta on court three. No. 4 Elbaba led No. 3 Ahn 7-5, 4-4 when the match was clinched.
"We have some of the toughest kids in the country on our team," Collins said. "I know we didn't get to finish the way we wanted to. We went down with good heart and good energy, and that's all you really can ask for."
Elbaba, Collins, Nauta and Pierson will compete in the NCAA Singles and Doubles Championship beginning May 21. Elbaba, Collins and Nauta will compete in singles and Elbaba and Pierson will compete in doubles.
Notes: Seniors Xi and Peretz played their final match at Virginia. The Cavaliers competed in their school-best sixth consecutive NCAA Championship appearance. Virginia is 15-15 all-time in the NCAA Championship and 0-2 all-time vs. Stanford.
#11 Stanford 4, #4 Virginia 2
Saturday, May 17, 2014
Dan Magill Tennis Complex
Doubles
1. #10 Ahn/Zhao (STAN) def. Nauta/Xi (UVa) 8-2
2. #50 Davidson/Tsay (STAN) def. #7 Elbaba/Pierson (UVa) 8-5
3. Collins/Epstein (UVa) def. Doyle/Herring (STAN) 8-2
Order of Finish: 1,3,2*
Singles
1. #4 Julia Elbaba (UVa) vs. No. 3 Kristie Ahn (STAN) 7-5, 4-4, DNF
2. #32 Danielle Collins (UVa) def. No. 51 Krista Hardebeck (STAN) 6-4, 6-2
3. #21 Carol Zhao (STAN) def. #53 Stephanie Nauta (UVa) 7-6(1), 7-6(4)
4. #50 Taylor Davidson (STAN) def. #76 Rachel Pierson (UVa) 6-4, 6-1
5. Maci Epstein (UVa) def. #54 Ellen Tsay (STAN) 7-6(5), 6-3
6. #57 Caroline Doyle (STAN) def. Caryssa Peretz (UVa) 6-2, 3-6, 6-0
Order of Finish: 4,2,5,6,3*