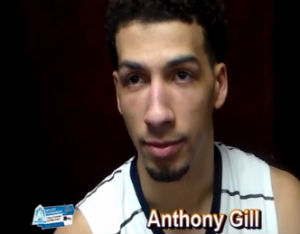 Remember back when Anthony Gill was dominating Davidson en route to scoring a season-high 25 points in a UVA win on Dec. 30?
Seems like an eternity ago.
Gill, a 6'8" junior, has averaged 8.0 points per game in 21.8 minutes per game in ACC play, and has gotten 17 minutes or less of playing time in three of Virginia's last four games.
And for Thursday's game at home against Georgia Tech, Gill was not in the starting lineup for the first time this season, getting 16 minutes off the bench, scoring seven points and pulling in six rebounds in the 57-28 win.
UVA coach Tony Bennett downplayed the benching after the game, saying he considers Gill and fellow big men Mike Tobey and Darion Atkins, who share time at the four and five, to be interchangeable.
"I told those guys that they are three starters," Bennett said. "It's going to be based on matchups. I like having Darion in there to give us a defensive spark and some mobility. With the size of Georgia Tech, I started Mike. I thought it would be a way to interject some life into him, as well. They're all going to play and give us lifts."
The continued improvement of freshman Isaiah Wilkins has added depth in the post, but with Wilkins getting more minutes – he logged 13 minutes on Thursday, scoring five points – that is coming, to a degree, at the expense of the other three.
Tobey played 21 minutes, scoring two points and grabbing one rebound. Atkins had five points and eight rebounds in 21 minutes.
– Column by Chris Graham