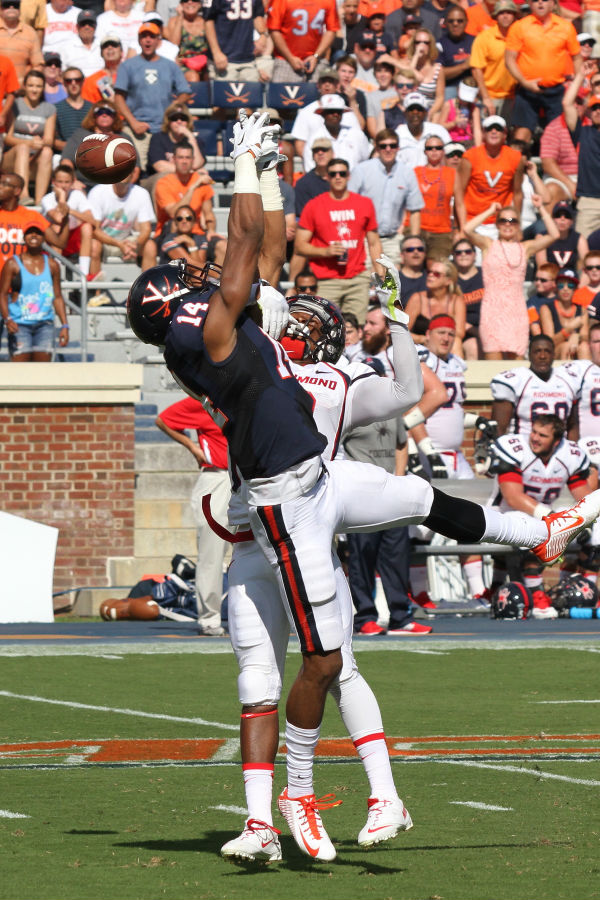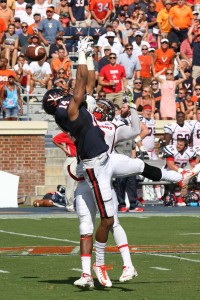 Greyson Lambert started for UVA on Saturday, as expected. Matt Johns relieved, as expected. David Watford, the 2013 starter, even got two series, but that was pure mop up duty.
Virginia got the 45-13 win, though the game didn't play the way the final score would suggest. Both Lambert and Johns had plenty of pressure situations in a game that was still a bit of a contest into the fourth quarter. And both availed themselves well, which is good news and, in an odd way, bad news for Cavs' fans.
"We will look at the film. Moving forward, our situation is that the guys that are playing are the guys that are executing and performing, not just at quarterback, but at a lot of positions," coach Mike London told reporters after the game, not really answering the question as to who gets the start against Louisville next week, though he had sort of already done that earlier in the presser when he talked about how Lambert had been the "the starter during the spring, summer and then August camp," and how it was "good that he was productive."
Lambert was productive, though his numbers were deceptively good. He completed 13 of his 15 pass attempts, but only threw for 102 yards, 6.8 yards per attempt, and only three of his passes went 10 or more yards downfield, and eight went for gains of five yards or less.
Johns only threw seven passes, completing four, with one pass intercepted, but his passes gained 65 yards, and in half the passes had two completions that were 10 or more yards downfield, a 45-yard ball to Darius Jennings that set up a third-quarter Taquan Mizzell touchdown run, and a 14-yarder to Jennings from the shadow of the Virginia end zone that helped flip field position later in the third quarter.
Both Lambert and Johns did their best to sidestep the controversy part of the quarterback controversy that lingers in Bryant Hall.
"It was good," said Lambert of the quarterback rotation on Saturday. "It was just like during practice. We've been rotating in practice. Whenever coach calls our number, we'll go in and try to execute to the best of our ability."
"We let the coaches handle that," said Johns, sitting a few feet away from Lambert, talking to another group of reporters. "When they called on us both, we were both ready, and we'll take it from there. It wasn't based off of what quarter it was. It was when the coaches were ready to put us in, then they would put us in."
It seems safe to assume that Lambert will get the start again next week against Louisville, a must-win for a Virginia program that today earned its first win in 10 games dating back to last season, and still hasn't beaten a I-A team since the 2013 season opener. And Lambert, even with his apparent reluctance to throw the ball downfield, seemed to right the ship Saturday against Richmond. His final pass of the day, a 29-yard fourth-quarter touchdown pass to Canaan Severin, on a rollout to the right that required quarterback and receiver to make the same read based on how the cornerback, in man coverage, defended, was a solid throw and even better in terms of execution.
Lambert after the game conceded that the past week was tough on him emotionally.
"I've been talking to my family a lot about it and just getting back to me, getting back to putting God first and doing what I can to help the team in any way," said Lambert, who threw two pick-sixes in the second quarter before being pulled in favor of Johns in a 28-20 loss to seventh-ranked UCLA last weekend.
"It wasn't really about putting last week behind us. It was about getting a win this week. It was good," Lambert said.
It was good. That's how UVA fans need to view it. The old adage is that a team with two quarterbacks really doesn't have one. It might be that this UVA team with two quarterbacks actually has … two.
We won't know that for sure until about 3:45 p.m. next Saturday. Virginia needs that one against Louisville about as desperately as any football team needs any game in 2014. On whose shoulders that one will ultimately come down to, we don't know yet.
– Column by Chris Graham