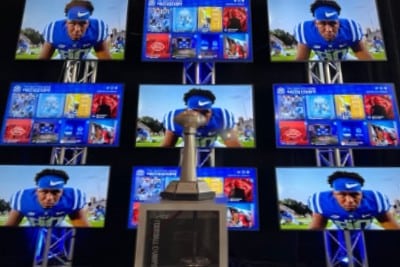 Florida State and North Carolina will open the 2022 football season on Saturday as part of the Week Zero schedule.
The Seminoles face Duquesne at Doak Campbell Stadium at 5 p.m. The Tar Heels welcome Florida A&M to Kenan Stadium for an 8:15 p.m. kickoff.
ACCN will originate its signature football program The ACC Huddle from Chapel Hill that evening.
Saturday, Aug. 27
Time, TV, SiriusXM, App/Web
Duquesne (0-0) at Florida State (0-0), 5 p.m., ACCN, 84, 84
Series: First Meeting
ACCN: Drew Carter (play-by-play), Roddy Jones (analyst), Lericia Harris (sideline)
Florida A&M (0-0) at North Carolina (0-0), 8:15 p.m., ACCN, 84, 84
Series: First Meeting
ACCN: Matt Barrie (play-by-play), Tim Hasselbeck (analyst), Kelsey Riggs (sideline)
ACC Notes
Five ACC teams in AP Top 25
Five ACC teams are ranked in the preseason AP Top 25 poll. The five teams are the second-most of any conference and match the league's highest ever total set previously on four occasions (2017, 2010, 2005, 2004).
No. 4 Clemson leads the way and is joined by No. 13 NC State, No. 16 Miami, No. 17 Pitt and No. 22 Wake Forest. Clemson has been ranked in the preseason AP Top 5 each of the last six seasons – the second-longest active streak in the country.
NC State equaled its highest preseason ranking ever in the AP poll, matching the 1975 Wolfpack, which also began the year at No. 13. Wake Forest claimed its highest ever ranking in the preseason poll at No. 22. Defending ACC champ Pitt holds its highest preseason spot since 2010.
Five ACC teams in USA Today Coaches Top 25
No. 4 Clemson leads a group of five ACC teams ranked among the top 25 of the preseason USA TODAY Sports AFCA coaches poll.
The Tigers are joined by No. 13 NC State, No. 16 Pitt, No. 17 Miami and No. 19 Wake Forest. The ACC's five ranked teams are second-most among all conferences.
NC State and Wake Forest claimed their highest preseason ranking ever in the coaches poll, and defending ACC champ Pitt holds its highest preseason spot since 2010.
Clemson favored in 2022 ACC Football Preseason Poll
Clemson is favored to claim the 2022 ACC football title for the seventh time in the last eight years, according to a preseason poll of 164 media voters.
The Tigers, who recorded their 11th consecutive double-digit win season with a 10-3 finish in 2021, were also chosen as likely Atlantic Division winners. Miami was picked to finish atop the Coastal Division following a 7-5 campaign last season that included wins in five of the final six games.
Clemson was named the likely 2022 ACC champion on 103 ballots. NC State picked up 38 votes, followed by Miami with eight and Wake Forest with four. Pitt (3), Virginia (3), Florida State (2), North Carolina (2), and Boston College (1) also received votes.
In the Atlantic Division preseason voting, Clemson led the way with 111 first-place votes and 1,080 total points. NC State, which was tabbed as the likely second-place finisher, picked up 44 first-place votes while accumulating 959 points.
Defending Atlantic Division Champion Wake Forest (six first-place votes, 783 points) was picked for a third-place finish this season, followed by Louisville (591), Florida State (two first-place votes, 509) Boston College (one first-place vote, 469) and Syracuse (201).
In the Coastal Division forecast, Miami received 98 first-place votes and amassed 1,036 total points. Defending ACC champion Pitt (38 first-place votes) was next with 911 points, followed by North Carolina (18 first-place votes, 823 points) and Virginia (six first-place votes, 667 points).
Virginia Tech (three first-place votes, 592 points), Georgia Tech (one first-place vote, 343 points) and Duke (220 points) closed out the voting.
Clemson was selected as the likely ACC champion in the media preseason poll for the fifth consecutive season and the eighth time in the last 10 years.
Miami was projected as the preseason Coastal Division champion for the sixth time and the first time since 2018. The Hurricanes' lone Coastal Division championship came in 2017.
The Atlantic and Coastal Division winners will meet in the 2022 ACC Football Championship Game on Saturday, December 3, at Charlotte's Bank of America Stadium.
The Conference of Quarterbacks
Ten of 14 ACC teams return a quarterback with at least nine career starts, led by Louisville's Malik Cunningham with 38 and Wake Forest's Sam Hartman with 33. Both NC State's Devin Leary and Virginia's Brennan Armstrong have 20 career starts. Kedon Slovis started 26 games at USC before transferring to Pitt for the 2022 season, and Grant Wells started 23 games at Marshall before transferring to Virginia Tech.
Name, School Career Starts
Malik Cunningham, Louisville, 38
Sam Hartman, Wake Forest, 33
Kedon Slovis, Pitt*, 26
Grant Wells, Virginia Tech**, 23
Brennan Armstrong, Virginia, 20
Devin Leary, NC State, 20
Phil Jurkovec, Boston College, 16
Jeff Sims, Georgia Tech, 16
D.J. Uiagalelei, Clemson, 15
Jordan Travis, Florida State, 14
Garrett Shrader, Syracuse, 14
Tyler Van Dyke, Miami, 9
*26 starts at USC before transferring to Pitt
**23 starts at Marshall before transferring to VT