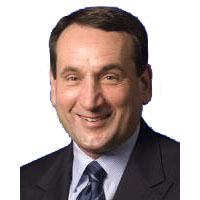 I warned my wife before we got in the car. "You're going to love Coach K after this," I said as we made our way over to the UVa.-Duke game in February.
I had an extra press pass for the game, and my wife, a Virginia Tech grad, had never seen Duke in person. Figuring you can't go a lifetime without seeing the Evil Empire up close and personal, I gave her the pass, but with that warning.
A media credential means you're also there for the postgame. And that Krzyzewski guy will surprise you.
You watch him on TV on the sidelines, and he's either barking at the refs or, well, barking at the refs – OK, sometimes, not often, but sometimes, he directs his venom at his team – and you think, well …
"I hate that ferret-faced #$%," my beloved grandmother would say. She was the one that got me hooked on ACC basketball when I was a kid. Granny couldn't sit in the room when North Carolina was playing, because she rated Dean Smith just slightly lower on the totem pole than Bielsbub. Krzyzewski played his way into the bracket with his success at Duke.
I'd have to go into the kitchen to give her updates. She'd come out for the last couple of minutes if Duke or UNC was losing big and had no chance of coming back.
Fast forward to the present day. My wife got her ACC baptism early in Tech's ACC run when her Hokies took a late lead at Duke before the famous halfcourt buzzer-beater that gave the Dukies the win.
What made it worse was me saying: "Expect Duke to make this shot."
"No way I'm going to end up liking this guy," she told me as we made our way into JPJ.
Duke of course wins the game, though it wasn't the kind of game that Coach K would expect to see in the career retrospective DVD, even in the outtakes. Kyle Singler, for instance, on his way to being named first-team All-ACC, had what had to be the worst game in his college career, two points on 1-of-5 shooting in 23 minutes.
A Duke beat writer after the game harps on Singler's poor play, which at that point in the season was part of a mini-swoon that had the Duke fan base wondering what was wrong.
"He played an unusually poor game – foul trouble and whatever. And we were still able to win tonight," Krzyzewski answered the first question, then interrupted a followup with "… he's a human being. Kyle's won 117 games as a player. He's 117-20. He's entitled to not playing as well every once in a while. In other words, he's a champion. I'm OK with Kyle."
A third question in the series elicited an answer that brought chuckles from the sportswriters.
"He didn't play bad because he wasn't ready to play. Sometimes you just don't do well. Nothing against some of your articles, but some of them aren't as good as others. Some of them are terrific, but then some pale in comparison," Krzyzewski said.
"Did you see what he did there?" I asked my wife later, trying to sense if she'd picked up on what had happened. Some other coaches would have thrown their kid under the bus. I saw Al Groh do it as a matter of course when he was the football coach at UVa. Krzyzewski had every opportunity to say that Singler was stinking up the joint, because at that point he was, but he made it about anything other than Singler.
The next question came out of left field – a national-publication writer working on a piece unrelated to the game wanted to know Coach K's thoughts on coaches talking during games with TV sideline reporters on air.
"You should be commended for asking this question," Krzyzewski began, then pontificated that "a coach's responsibility, from the time that you talk to them in the locker room before the game until you talk to them in the locker room after the game, is sacred between you and your team. Anything you do outside of that in college sports, I think, is wrong. I think it takes away from your responsibility. I don't have a responsibility to you. My responsibility is to my kids, to my team."
"Just show the kids playing. The game is a great game. You don't have to to places … what, are we going to tweet somebody in the middle of it? By that time, I'm out. I'll remember the good old days when men were men, and basketball players were basketball players,' Krzyzewski said.
"It's easy to be glib when you win as much as he does," I told my wife on the way back home, "but that said …"
"I like the way he sticks up for his team," she responded. He's so different than other coaches she's seen me deal with over the years – Groh, former UVa. basketball coach Dave Leitao, Tech coach Seth Greenberg, all of whom carry themselves as if they invented the sports that they are fortunate to make a living in.
And then there's Coach K, winner of multiple national titles, Olympic gold medals, holding court in a tiny press room after a meaningless February ACC game and pulling out all the stops in the process.
We still root intensely against Duke, which is still the Evil Empire in our minds. The guy on the sidelines, ol' ferret-face, though, Granny, rest your soul, isn't such a bad guy after all.