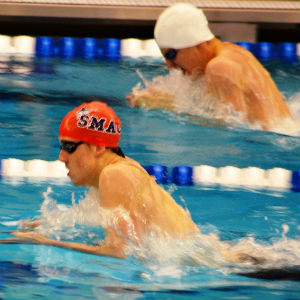 The Waynesboro Y Swim Team (SMAC) competed in the YMCA Nationals Swimming Championship in Greensboro NC from March 30 – April 3.  The meet was the final short course (25 yard pools) meet of the season.  The meet was open to all Y Teams in the United States.  Only the swimmers that met the fast National Time Standards were qualified to swim in the meet.  SMAC qualified 8 swimmers to compete in the National Meet.   The swimmers were Jessie Arnold (18), Norah Hunt (17), Brazil Rule (16) and Remedy Rule (18) for the girls and Bobby Carey (17), Aaron James (17), Justin Merritt (17) and Jake Zamalis (18) for the boys.
SMAC impressed all in attendance as they only brought 4 girls to the meet, but finished in 10th place out of 193 teams.  Highlights of the meet included: the girls finishing 6th in the 800 free relay after being seeded 11th and moving up 5 places because all girls swam a personal best relay split; the girls placing 14th in the 400 free relay; the girls placing 17 in the 200 free relay with help from Remedy Rule anchoring the last 50 free in a blistering time 22.57.  Other highlights included Arnold placing 6th in the mile and setting a new SMAC record with a time of 16:44.93, placing 11 in the 1000 and setting a new SMAC record with a time of 10:01.91 and placing 12th in the 500 free, Hunt placing 11th in the mile; 14th in the 1000 and 13th in the 500; R. Rule placing 3rd in the 200 back, 3rd in the 400 IM, 2nd in the 200 fly and winning the National Championship in the 100 fly.  All of Rules swims were new Team Records and her 200 back of 1:54.53 lowered the Virginia State record by more than 2 seconds and her time of 1:55.92 in the 200 fly was also a new Virginia State Record.  The SMAC boys also had a great meet with Jake Zamalis breaking the SMAC team records in the 100 & 200 breast stroke in times of 58.71 and 2:06.96.  Bobby Carey dropped just over 2 seconds in his 500 free and dropped a whopping 23 seconds in the mile.
SMAC is beginning to train now for the long course season (events swum in 50 meter pools) and is excited to welcome new coach Scott Thacker who takes over the coaching duties from Norm Wright April 20.
The SMAC swim team is a Waynesboro Y program and practices are held at the Waynesboro Y, Augusta Health and Ridgeview Park Pool.  There are numerous swim programs at the Y from swim lessons to long course training to summer swimming.  For more information regarding swimming contact Coach Hailey Hewitt or Kendra Hogg at the Waynesboro Y at 942-5107 or email them at [email protected] or [email protected]
For more information about SMAC, please visit their website: www.smacswimming.org