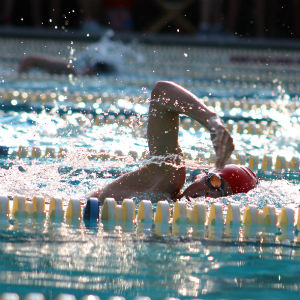 The Waynesboro Y year round competitive swim team, SMAC, (Shenandoah Marlins Aquatic Club) competed in the NBAC Long Course Championships in Baltimore, Maryland June 12th- June 15th. The meet was held at the Meadowbrook Aquatic Center, the home pool of Michael Phelps.
SMAC placed 9th out of 33 teams in a stacked field that included national power houses like YORK, NBAC and even some college teams including NAVY and Towson.
The following swimmers qualified for and attended the meet: Jessie Arnold (18), Bobby Carey (17), Mckina Fitzgerald (15), Miles Fitzgerald (12), Norah Hunt (17), Aaron James (17), Claudia James (13), Sarah Loomis (15), Davis Mckellop (10), Ryan Mercer (10), Justin Merritt (17), Jordan Miller (17), Cameron Murie (13), Rachel Murie (12), Maggie Riggan (16), Brazil Rule (17), Jackson Schundler (10), Ellie Schundler (9), Haley Sheffield (9), Tate Snyder (14), Kristen Wagner (13), Keelin Wolfe (17), Emmaline Woodworth (13), Ben Young (11), and Jake Zamalis (18).
Individual highlights of the meet included Aaron James shattering the SMAC long course team record in the 50 free, swimming a blistering 24.47 to break David Nathe's 1990 record of 24.97. Davis Mckellop, Rachel Murie, Jackson Schundler and Kristen Wagner all swam at least 6 life time best times.  SMAC also had a handful of performances that put many of its swimmers top 8 in VA swimming's current long course rankings, a few of them putting SMAC athletes in a first place ranking. SMAC swam a total of 58 best times over the weekend, which is extremely hard to do while training is at its hardest as they prepare for their championship meet season. This increases their long course best times to 205 under new head coach Scott Thacker. In addition, qualifying times for state, zone and national level meets were made by several of the swimmers.
In addition to these accomplishments, ten swimmers scored points for SMAC.  These swimmers, and their point totals were: Bobby Carey 13 points,  Rachel Murie 15 points, Tate Snyder 18 points, Jake Zamalis 18 points, Aaron James 32 points, Jackson Schundler 34 points, Jessie Arnold 61 points, Norah Hunt 65 points, Kristen Wagner 69 points,  and 10 year old Davis Mckellop with an amazing 142 points.
Next for SMAC is their annual team hosted Commonwealth Games meet at Ridgeview Park June 26th-28th. Over 500 swimmers and their families will be flooding the city and its restaurants that weekend.
For more information regarding SMAC, please contact Scott Thacker at the Waynesboro Y at 942-5107 or email him at [email protected].