The Shenandoah Valley Art Center, during the month of January, is exhibiting the paintings and drawings by Bob Anderson.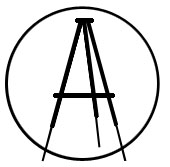 His Costa Rica junglescapes have translated nature into stylized broad vistas that border on the surreal. Early on, Bob was influenced by N.C. Wyeth's book illustrations and etchings by Albrecht Durer. As an architect, Anderson's drawings link art and architecture showcasing his interest in the intersection between natural and built environments.
In his own words: "Many of my oils and drawings are inspired by my travels and lifelong experience with the natural world. Growing up in Hawaii, I lived up the street from a rainforest, and since then have been obsessed with the jungle and the connections between animals and their environments. The creatures in my work—from spider monkeys and rhinos, to wild boars and zebras—are often in settings they would never share, peaceable kingdom fantasies where I have ultimate control.
"In my most recent work I have taken a different approach. Over the past year and a half, as Artist-in-Residence at Osa Conservation's Piro Research Center in Costa Rica, I have been coordinating carefully with researchers in the field to try to obtain a high level of accuracy in depicting my wild life subjects in their natural settings.  All of the work in my current exhibit is based on living in the pristine rainforest of the Osa Peninsula and I have included most of the drawings that will appear in my new book, Costa Rica, a Little Rhino Coloring Book, scheduled for release in the spring of 2014."
Adrian Forsyth, a renowned tropical forest conservationists said about the Costa Rica series: "I have seen most of the animals that appear in his new book, yet Bob's portraits make them fresh and new for me in a way that no camera ever could."
Overall, whether it is with architectural projects, book publications, large-scale drawings and paintings, or personal sketchbooks, Bob Anderson is always in a state of exploration.
An Opening Reception and Artist Talk will be held Saturday, Jan. 4, 6-8 p.m., and the public is encouraged to come, meet, and talk to the artist.
The Hallway Gallery will present works by a local group of women painters, the Paletteers. In the Members' Gallery, photographs by SVAC members will be featured.   In the Docent Room, Matalie Deane, a Charlottesville artist uses oils and watercolors to create active and dynamic nature paintings.
Please join us for free open studio opportunities. SVAC hosts on each second and fourth Thursday, 1:00 – 3:00p.m., an Artist's Playground meeting and third Thursdays, 11:00 a.m.-1:00p.m. the Art Trading Card Group meets.  Shenandoah Valley Art Center offers, the ever popular Saturday Art for Kids, presenting a creative art experience for young artists from 11:00 a.m. – 1:00 p.m.   Contact the art center for specific information and pre-registration for each class. Open studio opportunities in the Virginia Ross Education Studio are available to printmakers and ceramic artists.  Apply on line at www.SVACart.com.
The art center continues to celebrate its retail alliance and partnership with the Artisan Center of Virginia. In the SVAC Gift Shop you can find the perfect creative gift in fiber, jewelry, wood, glass, pottery, and more by juried artisans from Virginia and SVAC members.
The Shenandoah Valley Art Center is located in downtown Waynesboro at 126 S. Wayne Avenue. Galleries are open to the public 10:00 a.m. to 4:00 p.m. Tuesday through Saturday.
For more information, call (540) 949-7662 or visit www.svacart.com.