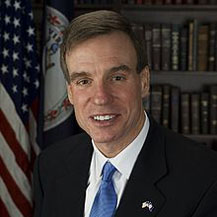 U.S. Sen. Mark R. Warner (D-VA) was named as a Hero of Main Street by the National Retail Federation for his consistent support of legislation focusing on international trade, workforce policies, tax reform, and healthcare policies that work for both employees and their employers. Retail supports one in four jobs nationwide, including more than one million jobs in Virginia
"I'm honored to again be recognized by the National Retail Federation as a 'Hero of Main Street.' Retailers have been great partners in my efforts to protect consumers' personal information and respond to the growing threat posed by data breaches," said Sen. Warner. "I have supported and will continue to support Main Street by focusing on fairness throughout the marketplace in order to help Virginia's small businesses compete and win in a global economy."
"This bipartisan group of lawmakers has shown that they care about retailers big and small and value the role these businesses play in communities across the country," NRF President and CEO Matthew Shay said. "We appreciate their advocacy on behalf of a thriving Main Street, their support for the long-term growth of the retail industry, and their recognition of retail's role as a catalyst for continued growth and opportunity for our nation's economy."
The 'Hero of Main Street' award was created by the NRF in 2013 to recognize members of Congress for support of the retail industry's public policy priorities. Award eligibility is based on key votes, bill sponsorship, and advocacy to advance the industry's priorities. The 'heroes' have supported initiatives defined by the NRF that recognize the contributions of the retail industry and have worked to encourage a "vibrant, sustained and healthy" retail sector.
The NRF is the world's largest retail trade association, representing discount and department stores, home goods and specialty stores, Main Street merchants, grocers, wholesalers, chain restaurants, and Internet retailers from the United States and more than forty-five countries. The retail industry is the nation's largest private sector employer, as it supports 42 million working Americans and contributes $2.6 trillion to the annual GDP.
Earlier this year, Sen. Warner was the only elected official included in a list of 25 leaders highlighted by the NRF for national leadership on issues of concern to the country's leading retail organization as part of the 'List of People Shaping Retail's Future.' The NRF and NRF Foundation named Sen. Warner as one of the "best and brightest individuals impacting the retail industry today," and acknowledged his work in Congress to protect consumers from the growing number of data breaches exposing the personal and financial information of millions of Americans.