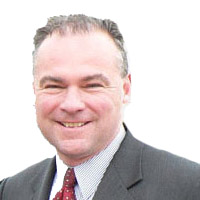 During a Senate Armed Services Committee hearing on Tuesday, U.S. Sen. Tim Kaine questioned Department of Defense (DoD) nominees on the impact of the President's Fiscal Year 2015 budget on national security priorities, including the critical importance of maintaining an 11-carrier fleet, based on Secretary of Defense Chuck Hagel's preview.
Kaine, who is strongly opposed to any reductions to the 11-carrier Navy, pressed Deputy Secretary of Defense nominee Robert Work and DoD Comptroller nominee Michael McCord to confirm that the Administration shares this position.
"Secretary Hagel in the speech yesterday said, and I quote, 'The spending levels proposed under the President's budget plan would also enable the Navy to maintain 11 carrier strike force," said Kaine. "I would like to ask both Mr. Work and Mr. McCord this – do you support the President's position as outlined in the Secretary's speech about the importance of maintaining an 11 carrier Navy?"
"Yes Senator I do," Work responded. "Secretary Hagel has made clear that if we can maintain at the Presidents' budget, then we can retain 11 carriers."
"I would agree with that," McCord said. "And this is going to be one of the most clear differences that we've been discussing about sequester path, versus the President's budget path."
In his questioning, Kaine also clarified – and Work confirmed – that maintaining an 11-carrier Navy is not just presidential policy, it is required by law.
On Wednesday, March 5, following the formal release of the President's FY 2015 budget, Kaine will have the opportunity to discuss the details of the defense budget with Secretary Hagel when he appears before the Armed Services Committee.
"I look forward to seeing how the President's [budget] supports this statutory policy of an 11-carrier Navy," Kaine said in closing.