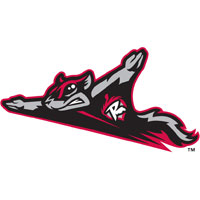 The Richmond Flying Squirrels, Double-A affiliate of the San Francisco Giants, announced that Richmond native and seattle seahawks fullback Michael Robinson will participate in the Flying Squirrels fifth season Opening Night festivities on Thursday, April 10 at The Diamond.
Robinson is scheduled to throw out the ceremonial first pitch and attend the Flying Squirrels home opener with students from his Excel to Excellence Foundation, a non-profit organization founded by Robinson to help youth in the community. 
"I'm really excited to throw the first pitch at Opening Night for the Flying Squirrels. It's going to be a fun night and great opportunity for me to spend time with our Team Excel students and their families, and the program volunteers," Robinsonsaid. "The Flying Squirrels have been great community partners and allowed our students to spend time behind the scenes with staff and tour the facility. Now they get to enjoy the excitement of a real game experience on Opening Night."
The Flying Squirrels Opening Night 5th season celebration begins April 10th at 6:35 PM. This event traditionally has sold out and limited tickets currently remain. Gates for the festivities will open at 4:30 and pre-game entertainment includes the Richmond Flying Circus. The circus-themed night will feature fire jugglers, stilt walkers and aerial acrobats who will aid and assist Nutzy in his 5th – and most daring – grand entrance yet.
"It's an honor and a privilege to have such a positive character and community-minded local athlete such as Michael Robinson throw out the season's first pitch," said Flying Squirrels Vice President & COO Todd "Parney" Parnell. "We look forward to having Michael and the Excel to Excellence students join in the festivities for what will be our fifth consecutive sold out Opening Night."   
Very limited tickets for the Flying Squirrels celebratory 5th season Opening Night are available. Single-game tickets can be purchased on-line at www.squirrelsbaseball.com or over the phone by calling 804-359-FUNN. The Squirrels season begins on the road Thursday, April 3rd in New Britain. Season tickets, group packages and hospitality areas for the 2014 season are available by contacting Brandon Greene at 804-482-6802.