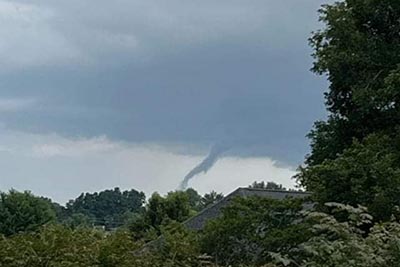 A strong storm hammered Staunton and surrounding areas Wednesday afternoon leaving a number of downed trees and power lines throughout the region. Photos posted to social media seemed to point to a scud cloud or possible tornado.
Gypsy Hill Park sustained damage and was closed off with cones after the storm.
Residents of Staunton reported hurricane-force winds and hail in the storm that lasted about 30 minutes. At least one home in the Hillcrest subdivision sustained major roof damage from a fallen tree with over a dozen holes in the roof and flooding – and displaced a family of four. Another person on social media said the road to their townhouse was blocked due to a fallen tree.
Additional pictures posted to social media also indicate that the downtown area and Greenville Avenue experienced flash flooding. Power outages and downed power lines were reported in Staunton.
Waynesboro reported just over one inch of rain in the storm. Social media reports indicate some areas received up to 1.5″ of rain during the storm. More rain is expected in the Staunton area tonight.
As of 9:52 p.m., Dominion Power's outage map showed 4,909 customers without power. Online reports indicate power should be restored between 9 a.m. and 3 p.m. tomorrow for most customers.
The Staunton Fire Department reported responding to more than 75 calls in the three hours following the storm.
The National Weather Service in Sterling issued a severe thunderstorm warning this afternoon for a number of counties and cities in Western and Central Virginia including Staunton.
There is no word at this time on injuries as a result of the storm.
Other news and notes
View additional storm damage on the Spot a Cop Facebook page
Staunton Fire and Rescue: Stay tuned to social media sites and the city's social media tomorrow. The department will posting information about reporting storm damage from today's event.
Honest Rx will charge phones tomorrow as needed. Open at 9.
Staunton City Council member Carolyn Dull posted to social media: "Gypsy Hill Park, including the pool and MHP pool will be closed tomorrow."
Staunton Parks & Recreation: Parks are closed due to storm damage. There are downed trees and limbs. Please avoid travel to these areas. All parks are closed due to storm damage. All events are canceled this evening. Summer camp parents at the garden center can come into the main entrance to pick up their child and will have to exit the wrong way on Thornrose Avenue.
Staunton Police Department: Several roadway are blocked by trees, power lines and flooding. There are several traffic lights not functioning and roadways blocked due to the storm. Please avoid traveling at this time. Use caution if you have to drive.
Queen City Brewing: Open mic is canceled.