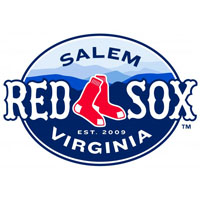 The Carolina Mudcats were a strike away from getting out of it unscathed. Reed Gragnani stepped in with the bases loaded and two outs in a 2-2 tie in the top of the tenth, quickly falling behind 0-2 in the count against Rob Nixon. But a couple of pitches later, Gragnani drilled a 1-2 delivery into right field for a two-run single, vaulting the Salem Red Sox to their first lead of the chilly North Carolina night. Ahead 4-2 after the clutch single, the floodgates opened as the Red Sox scored six more times with two outs, soaring to a 10-2 triumph in extras over the Mudcats.
Amazingly, Gragnani's single was one of just two Red Sox hits in the eight-run frame. Salem also received four walks and a hit batter, while Carolina made four errors in the wild inning. None of the runs were earned against the Mudcats pitching staff, but the Red Sox are happy to end their six-game losing skid, regardless of how it happens.
Through nine innings, the pitching and defense was the story, with both starters going six strong. Salem's Corey Littrell surrendered two solo homers, but also used 10 groundouts, including three double plays, to toss six efficient frames in just 72 pitches, 49 strikes. In relief, Austin Maddox dealt three scoreless, permitting just one hit, and Kyle Stroup closed it out with a solid 10th inning, yielding just one walk.
Carolina's Cole Sulser was solid as well, scattering 10 hits and allowing just two runs in six innings, striking out four and walking none. Grant Sides held the Sox at bay through two and a third innings, and Nixon induced a big double play on the only pitch he threw in the top of the ninth. But in the 10th, Nixon walked one and allowed two hits, including the pivotal RBI single to Gragnani. Carlos Melo took over for Nixon and struggled to throw strikes, hitting a man and walking three in his third of an inning on the hill.
Mario Martinez led the Red Sox offense with four hits and two RBI, while Gragnani finished 2-for-5 with two RBI. Carson Blair also chipped in with two extra-base hits, drilling a double in the third and launching a solo homer in the fifth, his second round-tripper of the season.
Todd Hankins and Anthony Gallas each jacked solo shots in the first two innings against Littrell, but Carolina did not record any other extra-base hits after the second inning. Gallas, who went 2-for-4, was the only Mudcat who registered multiple hits.
The eight runs in the 10th inning were a Salem franchise record.
At 7-7 through 14 games, the Red Sox will continue their week-long road trip with a four-game series in Winston-Salem. The action begins on Friday night at 7 PM, with Brian Johnson scheduled to start for Salem opposite Dash righty Braulio Ortiz.