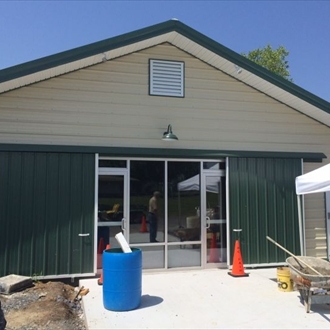 The Rockingham County Fair Association will dedicate two new fairgrounds buildings on Tuesday, August 5th. The focus of the facilities will be on poultry. Don Liskey, president of the organization, said this has been a successful project for the Fair. "We have seen tremendous community support for this effort to highlight the historic and economic importance of the poultry industry," said Liskey.
One of the buildings will house historic artifacts and educational displays to demonstrate how Rockingham County became known worldwide as the "turkey Capital" as well as a major hub for chicken production. It will also tell the story of how farmers protect the environment and provide thousands of jobs in the Shenandoah Valley. Two nine-foot tall, custom-sculpted statues, one turkey and one chicken, will welcome visitors to the facility. "The industry showcase building will be staffed by volunteers associated directly with the poultry industry," said project chairman and Fair Board member Jeff Germroth.
"There will be multimedia displays and items of interest to all ages."
"It will let people know that poultry and eggs directly and indirectly contribute $8 billion and 42,000 jobs to Virginia's economy," said Hobey Bauhan, president of the Virginia Poultry Federation. "In sum, the new poultry building will tell our story from past to present and from farm to fork," said Bauhan.
The second building will be for the exhibition of live birds, including chickens, turkeys, pigeons, and other fowl. The building is considerably larger than the old poultry facility and was designed to offer a comfortable environment for birds and people alike. The famous duck slide will, of course, be a part of the Fair week exhibit.
The Fair Association is asking for help in providing content for the poultry industry showcase building. "We realize there are a lot of artifacts, equipment, and memorabilia associated with poultry production in Rockingham County," said volunteer curator Lee Anne Biller. "If people would like to loan a few items to the Fair Association for display during Fair week, we will consider exhibiting anything from feed sacks to ball caps to incubators to old signs."
The Rockingham County Fair Association intends to dedicate the two new buildings at a noon-hour ceremony on Tuesday, August 5. The highlight of the event will be a grand unveiling of the two nine-foot tall statues.