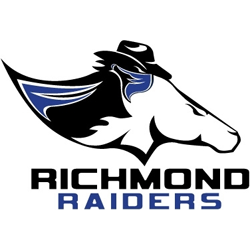 One of the first moves the Richmond Raiders made this offseason was re-signing quarterback Phil Konopka. The team announced the addition of three targets for Konopka in head coach James Fuller's offense: wide receivers David Lewis, Ammar Dyson, and Aaron Johnson. The trio brings the size, skills, and indoor experience that should make them good fits in the Raiders' system.
Lewis (Southern Illinois) caught on as a full time starter his senior season, and parlayed that success into the indoor game. He was the only Saluki to record at least one reception in every game. He signed with the Spokane Shock prior to the 2014 season and also played for the Bemidji Axemen. But the Marshall, VA native has returned to his home state to showcase his talents.
"It will be good to have Lewis" on the team, commented Fuller, since he wants "to show everyone else what he can do." The 6'4" big bodied wideout fits the prototype for a successful receiver in Fuller's system. "He has great size to be a red zone threat but also has the ability to run away from you in the field. The combination of size and speed should help our offense move the ball this year."
Dyson (Lincoln) is a two way player who some might call a throwback to the ironman days. A cornerback in college, he broke up 10 passes to lead the team and also made major contributions on kick returns his senior season. He was invited to a workout with the Detroit Lions and eventually landed with the Wyoming Cavalry.
"He has a lot of indoor experience which will help our secondary, but also has the ability to be a threat on offense as well," Fuller said. "He is a very good athlete and we plan on using all his talent whether it's on offense or defense. We think his knowledge of the game can help us in many ways and plan on using it."
Johnson (Virginia-Lynchburg) will not be the tallest receiver on the Raiders' roster, but at 6'1" he has the size and strength to impose his will in the indoor game. An avid student of game film who scouts have lauded for his preparation and analysis of opposing defenders, Johnson brings a mental edge to every matchup as well.
"He is a young explosive receiver that has very good route running ability as well as the ability to break a tackle and turn a short play into a big one," Fuller commented. "I like his versatility, which will allow him to play in the slot and out wide."
The Raiders will return to the Richmond Coliseum for their sixth season in the spring of 2015 with the home opener April 4.
Season tickets and group event packages are available now at discounted prices. Call 804-780-0430 to reserve your seats! Visit the Raiders online at RichmondRaidersProFootball.com for more details, a link to order tickets, and information on the team's offseason appearances and activities.
Groups can call the hotline for pricing on customized events, including team building outings, rewards and recognition, and fundraising options.